"In the film:" the photographer says to Sir Ian McKellen, "there was a look you gave after talking with Queen Elizabeth."
"Oh, that?" McKellen chuckles. Out of a thousand of possible expressions, he knows precisely the one to which the photographer refers. "I don't know if I can repeat that."
"If it helps, think of me as the queen."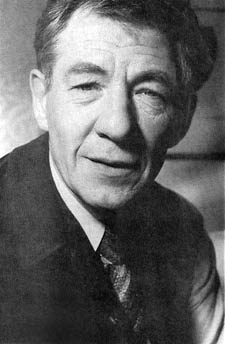 Sir Ian McKellen
McKellen laughs before turning serious. He takes a short breath. And then, in the rapid-fire click of a camera's shutter, recreates the expression. It's a priceless moment — pure and unadulterated — from one of the world's greatest living Shakespearean actors.
McKellen has few peers; he's the Olivier of his day. And those fortunate enough to have seen him on stage — either in his extraordinary one-man show Acting Shakespeare or in the forceful Richard III, both of which played Washington — will attest to this. Now everyone has a chance to catch McKellen's Shakespearean prowess: He's reprised his performance of the monstrous yet alluring Richard in a glorious screen adaptation of the Shakespearean classic.
There are many remarkable things about McKellen, not the least of which is his status as an openly gay knight in Britain's royal court. But perhaps the most remarkable thing is his personality. No hint of pomposity. No false affectation. Just a straightforward, simple, gentle-voiced man — a man who, at 56, is clearly relishing life's many seasons.
METRO WEEKLY: Your stage version of Richard III played to great acclaim, first in England then internationally, on a world tour. What made you decide to adapt this particular production for the screen?
IAN MCKELLEN: It all sort of happened by chance. I never really wanted to play
Richard III in the first place, having accepted the traditional critique of the play that Shakespeare had accepted the Elizabethan notion of physical deformity as an outward expression of an inner immorality But once you read the play, you discover it is full of explanations as to why Richard is the way he is. So I decided to play the role after all. And I enjoyed playing it — and I enjoyed the fact that it was appealing to so many different nationalities. I wanted to preserve the production [through film]. But I found that once I had written the screenplay, I was into another thing all together: I was now making a movie; I wasn't preserving the production anymore.
METRO: The 1930s fascist setting in the stage production was a startling and powerful choice, and it's been carried out even more effectively in the film.
MCKELLEN: All we do is borrow the images of the 1930s — not the political ideas of the 1930s. Richard isn't a political animal in that sense. He has no agenda for the country. He just wants to be powerful.
METRO: As with any Shakespearean play transferred to the screen, severe cuts are made — a lot is stripped away. The play normally runs over three hours, but this clocks in at an hour forty-five. Was deciding what to cut a difficult process?
MCKELLEN: No, it was very easy. Because I just put into the movie what I know works from my experience of acting the role. [I know] what the audience is genuinely interested in. What they found funny-every laugh kept. What they found shocking — every shock kept. What they found boring, I cut out. Characters who clearly confuse them [were cut]. Who needs to know that Queen Elizabeth had a previous marriage by which she's got two adult sons, neither of whom you ever sort out in the play? Get rid of them. Very quickly you're left with — what would you say? The best of Richard III? The highlights? No. I'd say you're left with the essence of it, what really matters about it, what's really original about it.
METRO: One of the film's more compelling sequences is Richard's wooing of Lady Anne. This monster has just killed her husband and yet she still falls for him. ft's one of Shakespeare's greatest — and most unlikely — scenes. What is the psychology going on here as you see it?
MCKELLEN: Well, why does Richard want to get married at all? He suddenly says, 'And now, I'll marry" And he's off. Well, I hope the audience comes to the same conclusion that I did: Here's a man going into civilian politics and he needs a wife. This guy who clearly has sexual inadequacies and has lived an entirely manly life out in the battlefield, suddenly realizes, "Oh, my God, I need to get married." And he decides to pick the most difficult person to woo. But she probably the only woman he knows. He's fantasized about winning over women; he's just never done it. He does it with ease, and genuine passion, because he wants it to work. He genuinely wants her to say "Yes."
Now, why does she give in? Because she's faced with this rather charismatic, extremely powerful father figure at the time when she's at her most vulnerable, when as Princess of Wales, she has lost everything. She will never be Queen of England now. And what happens? She unerringly picks the man who will soon become King of England, and she does become queen. By which time, of course, the marriage has been a total failure — as it was bound to be.
I'm very proud of the way we charted that marriage through — it's very simply done — there are no words to do it, because Shakespeare never showed the marriage [in the play's text]. I wanted there to be a constant reminder that Richard doesn't have any sex; all his sexual energy goes into his ambition.
METRO: What makes Richard so appealing as a villain?
MCKELLEN: He's got a nice sense of humor, which he shares with the audience. He loves buttonholing us: "Hey come here, come here, I gotta tell you something." Like someone in a bar who you don't much like the look of telling you he knows where the bodies are buried or are going to be buried. It's all rather alluring, isn't it?
But Richard III is not a deep study of the man's psychology. Shakespeare called it a tragedy, but it's also a melodrama and a political thriller. It's not tragedy in the sense that Macbeth is, where you're privy to how appalled Macbeth is at his own behavior from the beginning.
METRO: You came out in 1988. Talk a little about your life as an openly gay actor and what led to your finally coming out.
MCKELLEN: What led me to it was having lived for 49 years as a gay man and realizing that I always had been out — except to the media and to my family. Everybody else in my life knew. And I didn't realize until I came out what a weight that being in the closet had been. I wish I'd come out twenty years earlier.
METRO: Do you ever look back with regret?
MCKELLEN: I don't look back with regret, I just regret it. You wonder how different your life would have been. But I don't regret the results of my life, particularly with regard to my career, because what I'm doing now gives me enormous pleasure. And perhaps if I'd been openly gay, I wouldn't have needed to act as much as I did — I wouldn't have needed to so obviously draw attention to things that I was happy about in myself in order to deflect attention away from things that I wanted to keep a secret. That's a dreadful way of carrying on, but I think it's one of the motives that made me an actor.
METRO: Did you worry about how coming out might impact your career?
MCKELLEN: Yes, but in my case the concerns were not real. If a teacher in England tells you that he can't be openly gay because he would lose his job, I'd believe that. But for an actor to say I'm not getting parts because people know I'm gay isn't quite the same thing. The first part I'd played after having come out was John Profumo in [the movie] Scandal — and John Profumo was a raging heterosexual. I then did nine months in a comedy at the West End, playing the father of a young girl. So being openly gay has not affected my career one tittle — except for the better, in that, I got an enormous amount of confidence that I didn't have before.
METRO: We have, in this country, several gay and lesbian actors who won't come out
because they feel it will negatively affect their careers.
MCKELLEN: If you are a young actor trying to make it and you are open about your sex life, if you are honest about it, then that is a disadvantage because you might be thought to be inappropriate casting for certain parts. Well, that's absolutely rubbish. Was Tom Hanks the inappropriate person to play a gay man [in Philadelphia]? If you answer "Yes," then I'm an inappropriate person to play a straight man. If the audience knows that the person that they are fantasizing about would be an inappropriate bed partner in real life, does that stop them from fantasizing? Of course it doesn't. I can fancy Brad Pitt, Robert Redford, Richard Gere — all of whom I assume are straight — and they can be part of my personal life, thank you very much to them all. So what are we on about? We're on about prejudice at this point. Hollywood is late in doing so many things: There was a time that you couldn't be Jewish in Hollywood. There was a time when you couldn't have left-wing politics in Hollywood. Now — except for the better in that we're living through a time when you can't be gay in Hollywood — unless you're a studio executive, producer, agent, or writer. They're all allowed to be out. But if these agents and managers and producers are busy telling their young clients, "Ooh, don't let the world know you're gay, you'll lose your job," it's because they're remembering that quite recently that that was their own situation.
But the world will change — quite soon, I think. Some young gay actor will have success in a straight role and then come out. And then they'll get the next role they want. And suddenly all these producers and managers and executives will be looking for other gay actors who prefer to be honest, and it will all be over.
METRO: One last question: Has there been a great love in your life?
MCKELLEN: Yes, there has. But I'm not going to talk about him, because he's not here to talk about me. If we were here together that would be a different matter.
But I hope it's not the only love. At the moment, I live by myself, and I'm increasingly aware of what I'm missing through not living with somebody else. Whether that situation will ever change, I don't know.