E. Lynn Harris is late.
Our interview was scheduled for noon, and as I look up at the clock in the elegant Park Hyatt Hotel and I notice it's going on 12:30. "I AM SO SORRY!" a voice bellows just out of view. It's him.
"I had a T.V. thing that ran late and couldn't get away to use the phone," he explains. Coming from anyone else, this would sound like some patented Hollywood excuse. But from Harris, with his Cheshire cat grin and at-ease demeanor, it sounds perfectly sincere.
Nowadays, the dapper fortysomething scribe is in high demand. His novels, including the popular Invisible Life trilogy, portray the lives and loves of gay and straight black urban professionals—like an African-American version of Tales of the City. To date, he's sold over a million books and made the New York Times bestseller list several times. The Washington Post has even dubbed him "the most popular black male novelist writing today." When not planning his next book, giving talks or preparing his autobiography, he finds time for a regular column in The Advocate entitled "For All I Know."
E. Lynn Harris
But E. Lynn Harris hasn't let success go to his head. He still seems genuinely thrilled (and a little surprised) by all the attention he's getting. He hasn't forgotten that less than a decade ago, he was selling copies of Invisible Life out of the back of his car while working for IBM. Fortunately, Doubleday came along and offered to reproduce the book with wider distribution and become his publisher starting with his next novel, Just As I Am.
Abide With Me, Harris' newest tome and the last installment in the Life trilogy, picks up with the characters' lives where As I Am left off. Raymond Tyler and his significant other, Trent, are happily co- habitating in Seattle until Raymond's nomination for a position as a federal judge brings to light some troubling incidents from their past. Meanwhile, Raymond's former lover, Nicole (now happily married to his best friend, Jared) is starring in a touring version of Dreamgirls. Once again, things look great from the outside—but a sinister understudy, Yancey Braxton, will stop at nothing to take the role for herself. It might sound like Dynasty or Knot's Landing—and there is a certain soapy element to Harris' work—but it's the authentic dialogue and engaging characters that have hooked millions of readers on his books.
Metro Weekly: You took a job with IBM in sales right out of college.
When did you change your mind and decide to be a writer?
E. Lynn Harris: Only about thirteen years later! I studied the management aspects of journalism, with the idea of going to law school. But IBM came along and offered me a great job with lots of money. So I took it.
Metro: Were you writing on the side all along?
E. Lynn: No. I wrote letters—that was about it. I always say my writing career came about after getting so down and depressed. I was actually living here in Washington—this was the late '80s, early '90s— losing a lot of friends to AIDS. I just wasn't happy with the state of my life and wanted to do something different. Writing seemed to help.
Metro: I guess the city has changed quite a bit since you called it home.
E. Lynn: Not really. But I kind of have a narrow view of D.C. now. I'm very much a creature of habit: I always stay at this hotel, I go to restaurants and shops around here. When I come, it's usually because of a book I'm promoting, so I don't see a whole lot.
Metro: The Invisible Life series has a very personal, autobiographical feel. The characters live in some of the same places you have, D.C., Chicago, Arkansas.
E. Lynn: Maybe more in the first two books [Invisible Life and Just As I Am]. This one definitely strayed.
Metro: Do you see yourself as "Raymond," the main character in all three novels?
E. Lynn: Probably more so than any of the other characters in the book. I'm not really like him, but he's the one I identify with the most.
Metro: The trilogy deals a lot with Raymond's relationship with his family, both before and after coming out. It's not always a rosy picture. Was your coming out experience similar to his?
E. Lynn: Let's just say I became more comfortable in my skin. I never really came out officially to my family, I just became more at ease with myself. It wasn't something I announced, like "Mom, I think we need to talk." What I found out was that the more comfortable you are, the more comfortable the people around you are.
Metro: When you wrote the first book, were you planning to do a series?
E. Lynn: Not at all. I was just planning on the one. When I signed with Doubleday, they asked me what I wanted to do next and I said "Well, I really don't feel like I finished Invisible Life. I'd love to go back and work on it. I thought Just As I Am was the end, until Abide With Me came and the fans went for it. Now they're really pushing me for another one. It's hard, because I've said "No, that's it —that's the end. This is a trilogy." I can't believe how people have fallen for these characters.
Metro: Who is your audience?
E. Lynn: My readership is really expanding. It's little bit of everything—like my books. At first it was just black women and gay men. Then I started to get a white gay following. Now I'm even getting white women. I went to a Virginia television station and the receptionist—a white lady in her forties, saw me and said "Oh my God, I can't believe it's you! I read you books and I love them. Why'd you have to kill off Kyle?" She was going on and on. Black straight men are now reading my books because the women are. You don't expect that kind of person to be reading Invisible Life or Abide With Me.
Metro: Bookstores have always had a hard time deciding where to put your novels. I've seen If This World Were Mine in the "African- American" section of Borders, the "gay" section of Crown Books, and in the "general fiction" area in other stores. Where would you prefer to be?
E. Lynn: [Laughs.] I'd put them everywhere! It's funny you mention it— I'm having a battle with one chain because they only have my books in the gay section. When a new book is on the best seller list, they'll put it in the front of the store. After they drop off, though, the books get categorized. I don't have a problem with the one, but I'd like it in both areas.
A lot of people ask me what I want to be identified as: a black male writer, a gay writer, a black gay writer. Eventually, it all boils down to writing. Abide With Me was number one in New York City and number two in Washington. It doesn't say "The number one book by a black gay man." The end result should just be the words.
Metro: Where does the title come from?
E. Lynn: It's a biblical phrase I picked up before I even thought of the book. It just means "Come sit and stay with me." In the book, there are points in all the character's lives where they feel lonely— even if they're in a relationship. In this modern world—especially the gay community—I wanted people to think about staying, about permanence. In our relationships, you can just walk away. There's no paperwork or anything. We could use some kind of commitment in the beginning to hold onto when things get rough.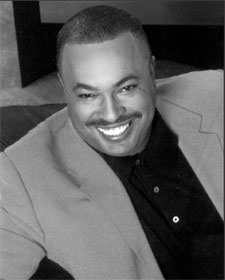 E. Lynn Harris
Metro: So you're in favor of gay marriage?
E. Lynn: Yeah. I'm not a big proponent of marriage but I think every citizen should have the same rights and privileges as every one else.
Metro: If gay marriages were legal, would that create that aura of commitment you mentioned?
E. Lynn: I don't know, because it hasn't had that effect on straight people. [Laughs]. They leave too. I thought when AIDS came along, gay people would be more interested in forming long-term relationships. I don't know if that's true.
Metro: One of the best parts of the books, especially in Abide with Me, is Raymond's relationship with his straight friend, Jared. The straight woman/gay man dynamic has been done to death, but the idea of gay men bonding with their straight brethren is generally feared or ignored. There's a lot to be gained from strong non-sexual relationships between members of the same sex.
E. Lynn: Absolutely. It's not that I make a point of it, but if I had to make a list of my five best friends right now, three would be straight men. Our relationships are wonderful; they're as intimate as those with my gay friends. It's more common than people think.
Metro: Why do you think gay men and straight men are pitted as natural enemies by the gay media?
E. Lynn: I think sometimes we create a problem for ourselves where there may not be one. Also, many gay men still really remember the teasing and harassment they got from straight boys when they were kids. My whole thing is, I just like to be with people who I feel comfortable with. I don't check their sexual orientation before becoming friends, just like I wouldn't check their skin color or anything else.
Metro: Your books tackle homophobia in the black community. But since all the characters are black, there isn't really much depiction of the racism in the larger gay culture.
E. Lynn: Sometimes I got into it. In Just As I Am, they go to a gay bar and the black men have to show more ID than anyone else. But I think that kind of discrimination is something most people are aware of. The gay community is just an extension of the larger world. If there's racism in the world, there will be racism in gay society. It works both ways, too. There are black pockets of the gay community where whites feel uncomfortable.
Metro: Is homophobia worse or better in the black community than elsewhere? Or is it just different?
E. Lynn: I think it's just different. For a long time we didn't even want to acknowledge that there were black gay men and women. It was a way of putting your head in the sand. Books like mine have helped create a dialogue within the community.
Metro: Being gay and a member of another minority—black, Asian, Jewish, Republican—has always been something of a double burden.
People in those other groups are trying to grow and make progress. The thought is, "You're not helping things."
E. Lynn: It's not so much that we're not procreating. They think that if you have another group that you need to offer support to, they'll lose you. Black people who are bothered by my success usually think I've been co-opted by the gay community and that's where all my energy and efforts will go. I say we can't afford to discard anyone. Just like the racism in the gay world—we can't really afford that either.
Metro: Towards the beginning of Invisible Life, Raymond sort of wakes up one day and realizes he's attracted to men. Do you think that's possible? You can live your whole life thinking you're straight and then BOOM—you're gay?
E. Lynn: It wasn't my experience, but I've had people tell me it happened that way for them. I have a good friend whose identical twin has always been gay, but he never thought about it—until he met a guy when he was in his late twenties.
Metro: Still, towards the end of Abide with Me, Raymond says "my sexuality was decided long before I ever knew what sex was."
E. Lynn: It's entirely possible not to be aware of what's right in front of you.
Metro: Do you think being gay is genetic?
E. Lynn: I think most gay people were born gay.
Metro: Is there any talk of an Invisible Life movie or miniseries?
E. Lynn: Sure—but they want to use all unknowns. I don't have anyone in mind. Maybe Halle Berry as one of the women.
Metro: There's a lot of pressure to show gays and lesbians in films and books only in a positive light. Some of your characters—even Raymond—do some pretty bad things. Have you gotten any flak for that?
E. Lynn: No, and I don't know how well I'd handle that kind of criticism if I did. In a way, this is my story and my characters, and I should be able to have them do what I want. I don't want them perfect. On the other hand, I don't want to hurt anyone: I wouldn't out someone in a book.
Metro: Judging from your work, you seem to be a keen observer of popular culture: sports, music, theatre. How do you feel about the homophobic remarks made by black celebrities like Reggie White and the Winans Sisters?
E. Lynn: It's just a lack of knowledge on their part. Most people who make anti-gay comments, like Donna Summer, usually end up retracting them when they realize what they've said. Only the Winans Sisters have stood by their words, and I have to believe that's just from a lack of knowledge and a desire to bring attention to themselves. Any time you try to bring down another group like that, it backfires. MW
E. Lynn Harris' Abide With Me ($24.95, Doubleday) is available at Lambda Rising and other area bookstores.
Advertisement
| | | |
| --- | --- | --- |
| Basketball Jones | Invisible Life | And This Too Shall Pass |