"It's an actor's dream," says Hot 'n' Throbbing star Danny Pintauro about working with playwright Paula Vogel. "She was here throughout the entire rehearsal process, helping us create the piece. There's nothing I wouldn't view to be a part of this."
It's been quite a vote for Pintauro, who started acting at the age of two and appeared for five years on the soap opera As the World Turns. But it was his stint on Prime Time television that brought him the most fame.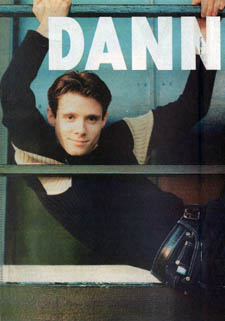 Danny Pintauro
For eight years, viewers saw Pintauro world of as Jonathan Bower on ABC's Who's the Boss? After the popular sitcom went off the air in 1992, Pintauro's life began to mirror that of any normal American teenager — friends, parties, college — until the day when the National Enquirer called to tell him they were outing him as a gay man. After much soul searching, Pintauro decided to cooperate with the tabloid to keep the record straight, as it were. He has no regrets about his decision.
Now in his mid-twenties, Pintauro seems more confident than ever. You he received critical praise for his New York theater debut in James Still's The Velocity of Gary (Not His Real Name). And he's now starring in Vogel's Hot 'N' Throbbing as Calvin, the gangly son of an abused housewife whose got more than a passing interest in his well-developed sister.
It's about this far from Jonathan Bower as you can get.
METRO WEEKLY: When was the first time you realized you were an actor?
DANNY PINTAURO: That's a good question. I've been acting since I was two years old so it's always been a part of my life. At two and you can't really have that sort of realization, but you're also not really acting. You're being a little kid. You're having fun, getting a lot of attention, the cameras are on you, everybody is looking at you, smiling at you. There is no better attention than that. But I don't think that I started realizing I was capable of becoming someone else in character until I was in lake high school.
METRO: What did you do at age two? Diaper commercials?
DANNY: Basically, yeah. Diapers. Cereals. Lots of cereals. Ice cream products. Lots of toys.
METRO: Was this local or national?
DANNY: Some were national. Some were local.
METRO: Do you remember any of them?
DANNY: [Laughs.] Clip Clop the Wonder Horse — it was a rocking horse that makes a noise when you are writing.
METRO: I remember those. I love old toys.
DANNY: Do you remember that little car that had a steering wheel and little buttons you could play with? I was on the box — the kid playing with a car. That was cool!
METRO: At age two, you don't make the choice to go into acting — your parents make it for you. Do you think they made a good choice?
DANNY: I think so. It could have been a bad choice if it were something they were determined to get you into from the very beginning of my life. If they had gone about it in that way, I think I would hold it against them. But it was not a planned thing — it came out of nowhere. My mother was a hairdresser. She had a picture up in her mirror. And all of the clients would say, "You should get him into modeling." Just to shut them out, she sent a few pictures to a talent agency. They called her the next day and said, "Bring him in. We have an audition lined up." It just sort of kept going after that period
My parents always gave me a way out. They said, "If you never don't like it anymore, we can stop." But I didn't like not doing it. Why would you want to give up something like that? You get all this attention. You could get anything you want. You've got lots of money coming in. You can have whatever you want.
METRO: How did your family deal with the money you made? Did it go into a trust fund?
DANNY: It's all over the place, really. When we first started it was used as an expense. My parents weren't making enough money to support a career. We lived in New Jersey, so traveling from New Jersey to New York every day was a huge expense. It wasn't until Who's the Boss? that I was making enough money for it to be worth wondering where it was going. My parents were very smart and put a lot of it away. There's a portion I'm still not allowed to touch until I'm 65. A lot of money is in a house that we have in California, which I think it is a really good investment.
METRO: It's nice to hear that you are able to contribute to your family's income in a meaningful way. And it's nice to hear it wasn't a horror story, like you sometimes hear about child actors and their parents. From the beginning, you were part of the breadwinning process, which gave you an interesting perspective on life and economics that other children don't have.
DANNY: Yeah, that's true. You're right.
METRO: By the same token you don't have a life like other kids. Do you feel as though you missed out on some of your childhood?
DANNY: That's always a hard question to answer. Because it's hard to say what would I have been doing if I were acting? It's made my life what it is. Sitting around on a street corner playing with toy cars with the neighbor while playing in Little League could not have compared to the great things that I was able to be a part of.
Also, I think that there was never a time when I was totally out of touch with being a. The minute we were not in New York, and I was back at home, I was out playing with friends in the neighborhood, trying to stay in the school. My parents were very, very helpful in allowing me to be as normal as I could be while doing that. It wasn't like I came home from work and sat around and got ready for the next day's work. I really just went out and got on my hands and knees and played in the mud.
METRO: You were on Who's the Boss? for eight years. What was your first memory of Judith Light?
DANNY: [Laughts.] Oh, my first memory of Judith Light isn't a good one. It's a funny memory, actually. I was in the audition and Tony [Danza] and Judith had already been cast. They brought them in to read with the kids who were auditioning. I'm a kid and I'm just starting to learn how to read. My mother is helping me memorize the lines. She would read the line before mine and I'd memorize it. Then she would read me my line and I would memorize that. Then we'd move on to the next one. I'd been doing this for years because that's how I did it on As the World Turns. So I got into the audition and Tony and Judith have been doing this all day. They've got the lines sort of memorized and are just pulling out key words. So if the line is like, "Hey did you have a good day to day?" Just the gist of it. So Judith did her line and I — and I was this little shit of a stickler — said, "Excuse means lady. Could you please say the line like it's written in the script? Because that's how I have it memorized. Thank you." And we started over and she read it the way it was written. That's my first memory of Judith Light.
Once we started working, the whole cast was very much a family. We bonded really well, really fast. Judith and I got along very, very well. She doesn't have any kids so I think that I'll always be a little bit of her son in some way. I always made it a point of giving her Christmas gifts that were very much like from a son to his mother. In fact, one year I gave her and Katherine [Helmond] these little statuettes that were actually mother and son and grandmother and grandchild. They had beautiful sayings on them with a little card saying, "You can always call me your son."
METRO: What was Judith's reaction when she found out you were gay?
DANNY: She was like, "I'm glad you've reached that place, because I knew you'd come there sooner or later. I'm glad you were able to get there yourself." When I was first doing the coming out thing, Judith was already a huge activist for gay rights. So knowing that she'd be there for me was a great feeling.
METRO: What about Tony?
DANNY: He was like my father. Very much like my father. Very Italian. Very sort of "Oh God! What do I do? I don't know how to deal with this!" Not happy. And then eventually he gave me his support. Very much like my father. I mean, anyone who tells you that their parents are okay with it immediately is lying. Because parents are not going to deal with it that well. I cannot lie to you and say, "Oh, Tony was great and supportive. He was wonderful," because there was a very short time where it was awkward. But we got past that quickly enough.
METRO: But you weren't working together at the time.
DANNY: No.
METRO: Tony had said some things in the press that were perceived as anti-gay.
DANNY: He was talking about Anne Heche and Ellen. They were at the White House meeting with President Clinton and they were very, very affectionate and obvious because they were next to the President. It was like, "Let's have a picture of us and the President and us being very kissy." A photo op. And all Tony said was, "Why do they have to do that? Why do they have to be so overt and ridiculous about it?" That's all he said. And in fact, I totally agree with him. I think such public displays of affection are [inappropriate].
METRO: But Tony got branded as anti-gay for that statement.
DANNY: Because he's a straight man saying it. As soon as a straight person says anything even remotely derogatory about a gay couple or person, they are considered homophobic.
METRO: As I recall, it was the National Inquirer that publicly outed you, a few years after Who's the Boss? went off the air. It must have been a horrible experience, being outed in the tabloids.
DANNY: Most people think it was a terrible, terrible experience. It wasn't. It could have been if I hadn't been expecting it. If they hadn't been nice enough to call and ask if I wanted to be a part of it. But as an actor, I have to say that I was totally expecting it sooner or later because I was not hiding it. I wasn't in the closet. I kenw it was going to happen. And I was expecting it. When they called, it didn't' come out of nowhere. I hadn't done anything for them to just suddenly call me. They called and said, "We are going to do this story about you whether you like or not. That's how we work here. Would you like to talk to us?" For a moment, I freaked out. "Oh, my God! This is crazy! What do I do? What do I do?" I called a bunch of people including Judith. And her advice was, "If they're going to write a story about you, whether you like it or not, you might as well want to have them quote you correctly." So I cooperated with the Enquirer. And the article was actually really great. It was heartfelt. It was interesting. It was intelligent. What people don't realize about those magazines is that if you cooperate, they'll do a good story. They'll do it right. If you don't cooperate, they'll take it out on you.
METRO: How old were you when you came out to yourself?
DANNY: Some subconscious part of me had obviously been thinking about it since I was a kid. We all go through that. I did have the few experiences as a kid — exploring, touching, whatever — but that's typical of kids in general, I think. I had an odd experience a year or two later in high school that sort of made me go, "Oh, that's odd." But nothing worth mentioning. It really wasn't until I got to college that I had a moment where I could actually say that I needed to think about [my attraction to men].
METRO: So you weren't really cognizant of it when you were playing Jonathan Bower?
DANNY: No — no matter how many people say they could tell Jonathan was gay from every episode of Who's the Boss? I can't tell you how many people have said that to me. But at the time, I really wasn't at all aware of it. Now, when I look at old episodes of Who's the Boss? I say, "God, you are such a little faggot."
METRO: Do you think Jonathan Bower was gay?
DANNY: No.
METRO: Does he grow up to be gay?
DANNY: No, I don't think so. I think the character, as written, and as played by anyone else would probably not grow up to be gay. Simply because it was me — and because that was already in me somewhere — you might be led to believe that. But, as a character on paper, as an audition piece, or as played by anyone else, probably not. The only reason that there is any bit of gay in him is simply because I was playing him.
What really pisses me off these days is the number of actors who are gay — who are living that lifestyle — but who are not out in their public lives. My point is that somewhere out there is a 13- or 14-year-old kid who knows that he's gay and who is having a very hard time with it. And he or she sees this actor or actress on television and just knows in their hearts that they are also gay, but see them totally living the lie. That really bothers me. If they're playing that character on television and are playing straight, that's fine — they're acting. But when they go to the awards ceremony and have a beautiful woman on their arm, that's different. But it's hard, because being an actor is all about career.
METRO: What can we do to get Hollywood to finally say, "Look, it's okay to be gay and it won't harm your career?"
DANNY: One word: Time. Same thing that I had to do with my parents: Give them time. You can't solve the problem in a day. It's not going to happen. Look how far we've come in the past couple years — we've got actors talking about being gay. You can't make everyone be okay with it in a day. You gotta give them time. That's all. It's just a matter of time.
Danny Pintauro stars in Paula Vogel's Hot 'n' Throbbing through October 17 at Arena Stage, 1101 6th Street, SW. Tickets are $27 to $45. Call (202) 488-3300.