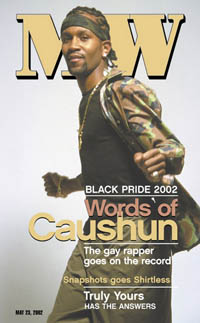 Collectively, rap and hip-hop artists have pretty much cornered the market on gay bashing. There's DMX's vibrantly visual "Well in the back wit ya faggot ass face down/Lucky that you breathin' cause you dead from the waist down." Then there's Snoop Doggy Dogg's passionate recoil "I can't believe that dog would dis me/That faggot, that punk, piss on that sissy." And of course, the ever-popular Eminem and his laconic and succinct "Hate fags? The answer's yes."
Not exactly a welcome wagon of sentiments for a 24-year-old gay rapper looking to break into the industry. But Jason Herndon, better known as Caushun, hasn't let that deter him one bit.
Born and raised in Brooklyn, the epicenter of the hip-hop phenomenon, Caushun has used his skills to bridge the sexual divide that alienates gays from the scene. In recent years, hip-hop and rap have taken baby steps out of their homophobic shells. A gay hip-hop scene has begun to emerge as a nascent force independent of its straight counterpart, and groups like Rainbow Flava and MorPlay have made the advancement of queer hip-hop their modus operandi. But despite this, the genres remain notoriously rigid in their critical opinions of gays. In '91, Ice Cube remarked flat out, "True niggaz ain't gay." A decade later, that view remains largely unchanged.
Caushun is somewhat of an anomaly. While he personally knows of several closeted gay rappers and hip-hop artists, he's one of the very few openly gay people in that scene. As a hairdresser for the stars by day, he messed with the heads of Jennifer Lopez, Kim Cattrall, Sarah Michelle Geller and the lesbian of the hour, Rosie O. His manager and producer, Ivan Matias, is one of the biggest names in the industry, having worked with Toni Braxton, Outkast and Monica. And Caushun's lyrics are at least as attention-garnering as his acquaintances: "I'm the gayest of all time/I can show you who's greater/Suck that dick till it swell up to the size of a skyscraper" he shouts without mincing on "Gay Rapper's D-Lite."
This year, he'll make D.C.'s Black Lesbian & Gay Pride Day one of the many gay events he'll perform at. And it's pretty safe to assume he'll be quotable, to say the least.
MW: It seems strange that a gay person would be interested in getting involved in a scene so famous for its homophobia. What got you interested in rap?
CAUSHUN: For my homosexual friends and I, rhyming was always second nature. Coming out of Bed-Stuy, hip-hop was always just there. It was something we enjoyed, but not something any of us took seriously as a career because hip-hop and homosexuality have never meshed very well. But I had a lot of heterosexual friends, and they thought I was funny. They were like, "Look at this gay guy with a flow!" So one day we were listening to the radio, and they said I should call up. Suddenly I was on the air with [disc jockey] Funkmaster Flex and this other rapper called Lil' Zane. I suggested that I battle Lil' Zane on the air, but he was like, that's definitely not going to happen. See, Lil' Zane didn't have anything to gain by battling me, but he had a lot to lose. His credibility was on the line. If a gay rapper shuts you down, you can pretty much get that day job going. So then I started calling up the morning show hosts, harassing them and rhyming on their answering machines, and eventually they called me back and asked me if I had anything I could send them.
I called a producer friend of mine and we put together a track. They played it on the air, and the station got over a thousand calls requesting to hear the song again. After that they started spinning it regularly on the morning show, and before I knew it, I was in the studio recording.
MW: What are the crowds at your live shows like?
CAUSHUN: I do shows for both gay and straight venues. I'm sure that I'll come across a negative crowd in my career, but that hasn't happened yet. Everyone has been really supportive, and a lot of people are just curious. Heterosexual men specifically are very intrigued by the homosexual mind, but they don't want to ask about it. When I perform, their reaction is usually something like, "I'm not into that gay shit, but I feel you for keeping it real." That's their way of saying that I've opened their eyes to an area that I might not have otherwise known about.
MW: That's a surprising level of acceptance.
CAUSHUN: Yeah, a couple years ago it was more like if you were gay people didn't want to know about it. Now it's more like, if you're gay then just keep it real, be honest, be up front about it, let people know what they're dealing with. You get a few people who are resistant to the whole thing, but I usually just attribute that to their own personal baggage.
MW: A lot of openly gay celebrities insist that their sexuality is just a small part of who they are and that their professional lives are separate, but you totally blend your sexuality and your career. In fact, a lot of your lyrics really flaunt the fact that you're gay.
CAUSHUN: You know, people choose to think, "Oh, he's gay and he's exploiting his sexuality." But sexuality is such a big part of every rapper's lifestyle. Ninety-nine percent of the rappers out there have songs that talk about their sexual experiences. So if that's the way the game is played, if other rappers can exploit their heterosexuality, why can't I exploit my sexuality?
MW: So you think your sexual references are only more apparent because they're about men rather than women?
CAUSHUN: Exactly. Jay-Z is singing about girls, girls, girls. Well, I'm in that same situation with guys so that's what I'm going to rap about. I could have put on this whole butch image and gotten a girl to front for me, but eventually someone would have outed me, and that would have been their satisfaction, not mine. If I pretend to be a thug when that's not what I am, I would be succumbing to the pressures of the world, forcing myself back into the closet. That's not the road I wanted to take. You've got to be who you are.
MW: Do you think there are a lot of rappers and hip-hop artists who are gay but still in the closet?
CAUSHUN: Of course. I know rappers who haven't come out.
MW: What's it going to take to change that?
CAUSHUN: It's going to take someone being gay from the beginning, before they get successful. The biggest reason people aren't honest is because they feel it's going to hinder their success. If someone can be openly gay from the [start] and still get successful, it'll open the door for others and show that it's not the worst thing in the world.
MW: Gay has become much more accepted — even hip — in television and Hollywood, yet it remains fairly taboo in the music industry. Why is that?
CAUSHUN: Because so few people in the industry have stood up and said, 'What's so wrong with being gay?' And the only people who do are RuPaul and Elton John and other over-the-top types, the ones who feed into the stereotypes of a typical gay man, a camp man, or a typical drag queen. The fact that they're so out there makes it easier to digest for the heterosexual community.
MW: Is that where "homothugs" come in?
CAUSHUN: Yeah, a homothug is a homosexual who is not easily identifiable as such. From the way they dress to their style of music to the things they like to do, play basketball or whatever, they don't fit into the traditional gay stereotype. A homothug is someone who blends in with society.
MW: But would you consider that a form of staying closeted? Doesn't the homothug ideal contribute to the homophobia in rap and hip-hop?
CAUSHUN: Look, I'm just going to be real with you. Hip-hop is a black art form originally. Black men have endured a lot in this society, and I think that, as black men, we don't want to have to take on another negative adjective or characteristic. We're already called all sorts of things, we're viewed as a weaker race, and by adding "gay" to that it just compounds the whole thing. We want to preserve this art form for strong black men who are independent thinkers and successful entrepreneurs, despite the odds. I think that's a big reason homosexuals are shunned by hip-hop.
MW: Is that a theory that could be applied to the African-American community at large, as far as homophobia is concerned?
CAUSHUN: Absolutely. It's across the board. Sometimes I think that the only gay black men who are comfortable with their sexuality are intellectuals, because they are socially developed and have the smarts to back it up. Educated black men are viewed by society as a very dangerous thing. But I also think that homosexuals — not just black homosexuals but homosexuals in general — will go that extra mile to make sure their stuff is on point because we know that since we're gay, we're being judged on a bias.
MW: Speaking as someone who has to deal with both, which is harder? Being black or being gay?
CAUSHUN: I think it's harder being black. As time progresses, being gay is not so bad in a lot of circles. Like you said, it's even becoming popular. But being black, though it may not be as bad as it was in the Fifties, still has more drawbacks. Every day I experience some form of racism. Even in the gay community here in New York, you have your black gay areas and your white gay areas. It's very segregated. I hear black people say, "Oh, I can't stand those white queens," and I hear white people say, "I can't stand those homothug bitches." I think that's one problem we have as gay people. We complain out of one side of our mouths about discrimination and with the other side we discriminate against each other.
MW: Do you think that the gay rights movement is too white-oriented in general, as far as taking on issues that are more "luxury issues" such as marriage and adoption, and ignoring issues that might affect more blacks, like poverty and racism?
CAUSHUN: I think any gay issues that get pushed to the forefront and made a point to the rest of the world are a good thing. Any opportunity to raise a valid point should be taken without worrying about what specific group it benefits.
MW: Do studios and record companies pressure rap and hip-hop artists to be homophobic for the sake of their "tough guy" personas?
CAUSHUN: I don't think they necessarily encourage them, but they definitely don't discourage them, that's for sure. I think, for example, that if an artist had something derogatory about a certain racial group on his album, the record company would probably make him take it out, whereas that same artist can come in with an entire album dogging homosexuals and the execs will be like, "Great, this is a hit."
MW: Sometimes I wonder whether Eminem would have become such a big star if his lyrics hadn't been so controversial.
CAUSHUN: The problem with the whole Eminem controversy is, I don't necessarily think he's a fag basher. People think it's controversial when I say this, but I'm actually a fan of Eminem's. And let me just point this out: Eminem did something no rapper has ever done and that no rapper will probably ever do. He said in that single ["The Real Slim Shady"], "There's no reason that a man and another man can't elope." No one in the rap or the hip-hop community has ever done that, and he really went out on a limb there. But the gay community was so up in arms about him using the word faggot. And why single him out? There are other rappers who have used that word twice as many times on their records. Ultimately, I think that the gay community's actions probably helped his sales. Left to his own devices, he probably wouldn't have done as well.
MW: But does it worry you that homophobic lyrics might influence the young people who look up to these guys to grow up homophobic as well?
CAUSHUN: I think the bigger problem is parents letting the records raise their kids. I don't think that kids are as impressionable as adults sometimes make them out to be, and I don't think that them listening to Eminem use the word "faggot" is going to make them any more or less homophobic. It may make them use the word more often, but from my experience, I think that society has changed to the point where "faggot" doesn't necessarily mean "gay" anymore. It's just an insult. It's like when a guy calls a woman a bitch, he's not necessarily calling her a bad-tempered woman. It's just an expression. People think words have so much power, but they've been diluted, the impact has tapered off. I think the kids only start thinking about them when the adults make an issue out of it.
MW: Are you looking forward to Black Pride?
CAUSHUN: Sure. I performed at the Prides in Atlanta and New York last year, and this year I'm doing D.C., Atlanta, New York and the L.A. Beach Party. The gay community has always been really cool to me. There are a few people who say, "Oh, he doesn't represent me," but then, at the end of the day, who does?
Caushun is scheduled to perform at 1:30 p.m. at this year's Black Lesbian & Gay Pride Day Expo at the Washington Convention Center, 900 9th Street NW. Expo hours are from noon to 7 p.m. Admission is $10 (free with a VIP Weekend Pass). For more information on official Black Lesbian & Gay Pride Day Events, visit www.dcblackpride.org, call (202) 667-8188, or email dcblkpride@aol.com.