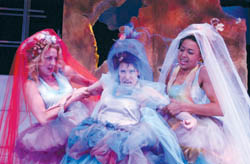 Runaway Brides: Norris, Jacobson and Biggs
What's not to love about Big Love? Not a thing, I'm ecstatic to say.
Avant-garde playwright Charles L. Mee's decidedly contemporary take on Aeschylus's The Suppliant Maidens, the oldest Greek play in existence, closes Woolly Mammoth Theatre Company's season — as well as completes the inadvertent cycle of ancient Greek theatre formed by other companies' programming this season — on a blissfully high note.
The tale of fifty sisters fleeing arranged marriage to fifty brothers — their cousins — unfolds with sparse language, so it's the design team's visually and aurally captivating realm that first engulfs, intrigues and captivates you. James Krozner's set — part padded cell, part "The Bold Look of Kohler" — is a particularly whimsical wonder that provides the perfect playground for Howard Shalwitz's intensely physical direction of a top-notch cast, bedecked in wildly eclectic, fantastical costumes by Elena Zlotescu.
Mee introduces us to just three of the sisters, Lydia (Kate Eastwood Norris), Olympia (Lisa Biggs) and Thyona (Naomi Jacobson), while the rest are left to hang out on the family ship they've commandeered on their proposed wedding day. Likewise, we meet just three of the brothers, Nikos (Eric Sutton), Oed (David Lamont Wilson) and Constantine (Mitchell Hébert), who have followed the sisters to a villa where they seek asylum after sailing from Greece to Italy.
Norris, Biggs and Jacobson are the perfect embodiments of the fascinating female archetypes Mee explores. The rage-filled Thyona and submissive-by-choice Olympia provide the biggest acting challenges, for they exist in extremes of human nature that we tend to disavow publicly. But Jacobson and Biggs tear into them fearlessly, brilliantly illuminating Mee's sharp commentary on modern relationships.
Lydia exists on more level-headed territory, torn between the injustice of the marriage contract and the fact that she may actually love Nikos, the adorable, generally considerate cousin with whom she's been matched. Norris's understatement, deadpan delivery, and exceptional skill with comic timing make Lydia immensely likable, and her performance helps set up a smooth segue when Big Love takes a dark turn at its climax.
Sutton brings a sexy earnestness to Nikos that makes for great chemistry with Norris's Lydia, while Hébert pulls off a remarkable balancing act between repulsive male chauvinism and misunderstood masculinity. How wonderfully challenging it is for the audience to simultaneously despise and empathize with Constantine.
June Hansen brings an endearing humanity to the grandmotherly Bella, a life-and-love-embracing Italian at the villa. Hansen also gets to tackle the quirky Eleanor, a villa guest whose appearance of elderly propriety delightfully belies her frank, unsolicited, often-graphic advice on sex and relationships. Bruce Nelson shines too as another Italian, the flamboyantly gay Guiliano, whose presence rounds out Big Love's moving message to be who you are without reservation and love others accordingly.
Through July 21st in the AFI Theater at The Kennedy Center. Tickets are $17 to $32. Call 202-467-4600.