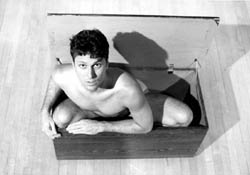 Tim Miller
Tim Miller is feeling a little guilty.
"I used to be very pooh-poohing on the gays in the military issue," admits the performance artist cum gay activist. "But if you're a working class dyke or fag in rural Tennessee, the military may be your only chance to get an education or job. So, okay, I was just slightly left of center — I didn't see what a crucial rights issue it is."
But wait, there's more.
"And I wasn't up to speed on the adoption thing. I don't have a huge parenting impulse. But then, I know many lesbians and gay men do see how unfair this is and how much it's hurting gay people and their kids. I feel the crap in Florida."
Miller has begun to see all gay and lesbian issues in a renewed light once it became apparent that his own life, in a country he calls home, might dramatically change.
Not that Miller — a member of the infamous N.E.A. 4, artists who sued the federal government for "violation of First Amendment Rights" in opposition to a Supreme Court opinion stating that the government had the right to withhold funding from art projects deemed "indecent" — hasn't been fighting for gay rights. It's been his raison d'etre, the fuel propelling his engaging, witty, passionate and emotionally evocative one-person monologues. Miller's latest show — Glory Box — takes on the issue of immigration rights for gay and lesbian bi-national couples, something with which Miller is intimately familiar.
His partner of eight years, Alistair McCartney, who holds dual citizenship in both Scotland and Australia, has been living in the states for five years on a student visa. When the visa expires later this year, McCartney will leave. Miller sees no other option than to leave with the man he loves. Goodbye, homeland. Goodbye, America.
It's a choice Miller would prefer not make, but present laws leave him few options. Where heterosexuals can marry a foreigner on a whim and thereby gain instant U.S. residential status for their partner, gays and lesbians, of course, cannot. But the immigration status issue is part of a larger Gay American Pie.
"The whole marriage discussion is the front running cultural issue in our country right now," says Miller, "and will continue to be for the foreseeable future."
Glory Box, which addresses Miller and McCartney's plight, may have a only a short run in our city (produced by Woolly Mammoth, it runs through Sunday, July 14 at the Source Theatre space), but Miller hopes to accomplish much in presenting it in the Nation's Capital.
"I know several congressmen will be coming to the show," says Miller, "which will be interesting. I'd never done a show in Washington that was, in effect, about passing a piece of legislation."
That bill — the Permanent Partners Immigration Reform Bill H.R. 690, introduced by Congressman Jerry Nadler (D-NY) — would give gay couples the same immigration rights currently only afforded to straight married people. As of late, there has been much buzz surrounding the bill, which this past Monday was the centerpiece of an HRC-sponsored Town Hall Meeting on the GWU campus.
Miller is realistic about the possibilities of such a bill passing — that is to say, he's hardly optimistic. "In my lifetime, half a million gay Americans have fled this country. It's unbelievably unjust. I'm assuming Alistair and I won't be in this country six months from now. This is my last Fourth of July in this country that treats gay people like shit."
Still, he notes that there is hope in the long term — boiling down to the usual tactic of persuading one's congressman to climb on board.
"If you're willing to just accept a tiny little sliver of pie, you'll be fine. But if you want your fair share of the pie, then you're going to have to start getting cranky."
---
"Every fair-minded straight person in this country should find it unacceptable that they allow the right wing to speak for their special heterosexual marriage rights."
"At the end of the show I encourage the audience to call their congressperson — I put the phone number in the program — and ask why they're advocating the destruction of lesbian and gay families. Several times, the audience has helped push their congressperson to sign onto the Permanent Partners Immigration Act. A week after the shows in Atlanta, for instance, Representative John Lewis signed onto the bill. It's a very American characteristic I have, that I must do something. And I feel like I have been doing something."
MW: Let's start with a short history of how you and Alistair came together.
TIM MILLER: We met in London in July, 1994, at the Institute for Contemporary Art, right down the street from Buckingham Palace of all places. The next year was sort of a period where I was working in England and Scotland a fair amount, so I was traveling back and forth and we were seeing each other a lot.
MW: How quickly did you identify yourselves as a couple?
MILLER: Pretty quickly. Certainly within a year of our first meeting. If we were straight we could have said "Let's get married so we can get a green card." I know zillions of straight bi-national couples who do that. It's pretty standard. They marry quicker than they might have if they didn't have that pressure. The reality is that any straight American citizen can meet someone tonight, drive to Las Vegas, get married, and Monday morning go to the Immigration and Naturalization Service and get their fiancée a green card. Their partner immediately has status. I know gay bi-national couples who have been here for thirty years, having to live underground, hiding, slipping from one visa to another. But my relationship with Alistair was strong enough and deep enough that we decided we would take on the multi-year and incredibly expensive legal and political fights to try to stay together.
MW: I don't recall you even bringing this issue up until the last time you were in D.C., about three years ago.
MILLER: Well, it was always there, but we couldn't talk about it until Alistair was here on a student visa. If I talked about it publicly, his student visa could have been refused. You know, if you're living in this way, America starts feeling very Gestapo. You hear all the stories of people being turned back at the airport. Every week I hear stories of someone getting caught with something incriminating.
MW: Such as?
MILLER: The I.N.S. finds a joint checking account — that's reason enough for someone to be refused entry. It means you've developed a family that is afforded no protection under U.S. law and in fact would indicate to a nasty I.N.S. officer that you're starting to make a life here. To get a business or student visa, you're supposed to demonstrate significant ties in the country that you'll return to — family, home, petsÂ…
MW: How has Alistair maintained his visa?
MILLER: He's been on a student visa for five years, and he's never left the country because it's not safe. As long as we don't leave the country, we're secure until the visa runs out.
MW: While this is currently a hot topic, and is certainly of importance, what I find intriguing is that the majority of gays and lesbians living here are not involved in relationships with people from other countries. Most will probably claim that this particular issue isn't as important as some other issues on our social rights docket.
MILLER: I rarely agree with Andrew Sullivan but I think he's on target when he says that because of denial of marriage and military service — traditionally in Western culture the two primary markers of citizenship — lesbian and gay people can't really consider themselves citizens of this country. I certainly don't feel like a citizen on the United States. I'm denied markers of respect and privileges primarily given through marriage rights in our country.
I've done Glory Box in probably eighty cities at this stage, and audiences are surprised, I think, by [my assertion] that the U.S. government is consistently destroying lesbian and gay families by the thousands every year. I think most people would say, "Well, I don't think gay people should be able to marry, but you shouldn't have your homes destroyed and have to quit your jobs and leave your family and immigrate to a civilized country." That's strong rhetoric, but I don't think the U.S. can consider itself a civilized country. I think we can only marginally consider ourselves part of the western world in terms of our treatment of gay people — we're just too far outside of the community of western nations in our laws against lesbian and gay people's human lives.
MW: Do you feel as though any progress is being made?
MILLER: As long as the Republicans hold power, no. We're being held hostage by the Republican-led immigration committee. But it's not going to be a walk in the park if the Democrats take the House back. The bill — the Permanent Partners Immigration Act — has ninety-five sponsors. Last time you and I spoke there wasn't even any glimmer of hope. It's been two years since the bill was introduced by Congressman Nadler, and it now has almost half the votes that we need it to pass. So that's a dramatic improvement.
MW: What other countries have immigration rights for gay partners?
MILLER: Only one country — Holland — has marriage rights. Others, like Germany, have partner bills of some sort. But many countries do have immigration rights. The notion that you have to leave the nation of your citizenship for the most fundamental pursuit of happiness to live in another more rational, fair-minded country is so grotesque that, of course, most countries are going to pass something. Since America is not a rational, fair-minded or openhearted country, we may spend the next twenty years trying to pass laws that any normal country passes in, say, a week.
I think every American should be asking what the fuck is wrong with us? Why are we so out of step with other countries that are really similar to us? White Anglo-Saxon Protestant Capitalist countries — why are they at least a generation — if not two or three — ahead of us? It should trouble us a lot. And the obvious answer is that we are basically a theocratic fundamentalist state that has a radicalized right wing Christian majority that controls one of the parties. That's a simplification, but it is the one fundamental difference between us and the civilized world.
Why is our military the only military that will crumble if there are gay people in there? Are we such weaklings? Germany and England have a pretty defined military tradition themselves, much older than us, and they managed to do this without crumbling into puddles of homophobic panic. It's a big question, and the thing is, we're all complicit in it. And I put this on straight people. Every fair-minded straight person in this country should find it unacceptable that they allow the right wing to speak for their special heterosexual marriage rights.
MW: Do you think the majority of gays are too content to truly fight these days?
MILLER: I wouldn't use the word content. I think because we're all frustrated by the level of toxicity toward gay people, and we go into denial and become kind of partners in homophobia. And I understand people doing that. It makes the day easier, it conserves energy.
And really, if you're willing to just accept a tiny little sliver of pie, you'll be fine. A little bit of frozen pie that nobody wants. But if you actually want your fair share of the pie, then you're going to have to start getting cranky. You realize our relationships aren't worth shit with America and we pay more taxes than our married neighbors. I make my accountant do my tax return and then a hypothetical return to see what my taxes would be if Alistair and I could file as a married couple. And every year we'd pay within three and five thousand dollars less. So I'm subsidizing American bigotry. If gay people don't get pissed about anything else, get pissed about the fact that we have to subsidize straight people's taxes if you're in a relationship and don't make sixty thousand dollars. It's the gay tax.
MW: How do you feel, on a personal level, about the prospect of leaving America and living abroad?
MILLER: It's hard to say because I don't know. I'm so American identified — this is when my parents and grandparents come from, my identity is a gay American. I think it'll freak me out, it'll be difficult, it'll be depressing.
MW: On the other hand, life in a new country could be invigorating, give you a whole new feeling of being.
MILLER: I think parts of that are true. Every now and then I wake up and think what would it be like to wake up and not be angry and annoyed by the newspaper each morning, by some new homophobic monstrosity in Florida or Michigan or wherever. That has appeal.
But it's not like I'm going to be leaving the battle. I'll be coming to the U.S. probably twenty five times a year, to Washington or upstate New York or Detroit or wherever, speaking up and trying to make these changes, trying to get this country to open its heart to gay people.
Tim Miller will perform Glory Box through Sunday, July 14. Presented by Woolly Mammoth Theatre at The Source Theatre, 1835 14th Street NW. Tickets are $20 and $25 and are available by calling Woolly Mammoth at 202-393-3939 or by visiting www.woollymammoth.net on line.
Related Links: