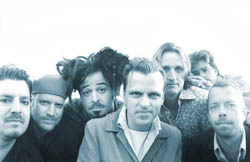 Counting Crows
Gotta love it. As the rest of us suffer because of our intrinsic fears of commitment, Adam Duritz is making millions off of his and getting laid like a rock star. Now that's win-win. But how many times can we hear Duritz and his band, Counting Crows, romanticize promiscuity and get away with it? Five and counting, says Hard Candy (Geffen), the Crows' most infectious scam yet, another faux-profundity from a band that's consistently catchier than lice.
Music snobs hate to love 'em, but they do. I once read a review in a local paper (we'll call it the City Paper) in which the critic opened by apologizing in all sincerity for liking This Desert Life. It's understandable. Despite what he'd have you believe, Duritz is about as lovesick as a Bel Ami casting director. "I'm just another boy from Texas," he croons, as if that lends him cred in the sensitivity department.
Shot through all the cow-eyed pining is the Crows' standard rundown of places, climates and times. "Evenings on Long Island." "Certain Sundays in November." "Morning showers." "The weather bothers me." And that's just track one. Duritz's own Memory Lane is perpetually gridlocked in a state of Ken Burnsian über-nostalgia. He's optimistic, unironic and totally jacked on Americana. It's a formula, but it's a good one.
The Crows' strongest point has always been catchiness. Indeed, some of their songs are just one giant hook. Verses are filler between choruses, and their increasingly polished production has only made them more so. Their semi-flop Recovering the Satellites failed because it tried to be angry but no one was convinced. We want our Crows to be sunny, bouncy roadtripping music. Hard Candy delivers just that.
All the quixotic schmaltz is supplemented by a parade of cameos. Sheryl Crow (fresh off of her own star-studded, albeit mind blowingly-shitty new release), Matthew Sweet, Ryan Adams, Jerry Hey (on flugelhorn?) — such We Are The World-ishness reeks of desperation. Thankfully, the guest stars keep their contributions minor. Up front remains Duritz and company, making feel-good music for the masses. Hard Candy may not be as deeply profound as it pretends to be, but it sure is easy on the ears.
---
Just a Mirage
It's tough to even feign excitability over the new Oasis release. Like Jason Priestley and analog answering machines, the Gallagher brothers will forever be associated with the 1990s, and anything they do will inevitably sound like a rehash. There's nothing technically flawed about Heathen Chemistry (Epic). Every fuzzy guitar chord is in the right place, and there are a few tracks of genuine beauty — "Stop Crying Your Heart Out" has all the cascading shimmer of anything on Definitely Maybe. But though most of the songs contain all the essential elements, there's not a "Champagne Supernova" or a "Wonderwall" in the bunch, nothing that explodes and certainly nothing that warrants the Beatles comparisons that Noel and Liam love to make.
The album at large is a fax of a fax, the work of a band trying to recapture a moved-on fan base. With Standing on the Shoulders of Giants, Oasis overestimated itself and alienated many of its followers. The swaggering, set-your-hotel-room-mattress-on-fire attitude went out with Kiss sometime back in the Eighties, and the band's self-aggrandizement went from sexy to tedious to just plain grating.
But while it's kind of fun to watch the two most arrogantly bombastic blokes in the music industry scarf down a fat slice of humble pie like it's the last leftover they're ever going to eat, it's also a little disappointing. Oasis was a groundbreaking band, one that helped to revitalize the Brit pop trans-Atlantic connection to America. The connection still stands, but Oasis seems to be crumbling. Heathen Chemistry may be better than their last two efforts, but an anti-climactic comeback is almost worse than no comeback at all.