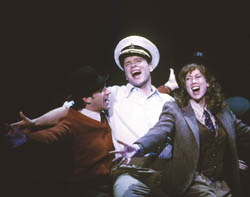 Three's Company: Esparza, Hayden and Shor (photo Joan Marcus)
A story with a happy ending, but it has to be told in reverse chronological order to get there?
It's no wonder that the 1981 Sondheim musical Merrily We Roll Along has more than its fair share of detractors. Sondheim does invest the show — much like the similarly show business-themed Follies — with a mass-appeal, traditional-Broadway score. (Memorable numbers include "Old Friends," "Not a Day Goes By," "Good Thing Going" and "Our Time.") But the narrative structure is peculiar, and the contrast between the youthful idealism of the main characters at the end of the show and their middle-aged misery at the beginning is downright depressing the more you think about it.
Therefore, escapism Merrily is not. But bittersweet, brilliant illumination of regret it is. And with an outstanding execution by the Kennedy Center Sondheim Celebration, Merrily unabashedly reasserts itself as top-form Sondheim worth another look if you've dismissed it before, and an initial look if you want a musically and dramatically rich theatrical experience.
Working with strong source material (the 1934 Kaufman and Hart play), George Furth created an engaging book for Merrily that shows marked improvement over his vignette-inspired, uneven contribution to Sondheim's Company a decade earlier. Still, the larger-than-life characters — exactly what you expect from a musical about show business — are especially prone to misstep without formidable talent to fill their shoes.
Here, that's not even remotely an issue. The dashing Michael Hayden is a fabulous Frank, the Hollywood producer who abandons his dream of composing for the stage, losing friends, family and self along the way. Raúl Esparza plays Charley, Frank's creative partner, with a just-right combination of wackiness and earnestness that makes his character extremely likable and sympathetic. The writer-critic Mary rounds out the trio of friends, and Miriam Shor plays her with absolute believability that drives home a genuine sadness over the devastation of Mary's alcoholism and her never-acted-upon love for Frank.
Without any sense of heavy-handedness, director Christopher Ashley hones in perfectly on Merrily's key plot points that provide explicit responses to the show's overarching question, "What was the moment?" That is, what were the precise moments over the course of two decades when these characters, like all of us, made commonplace choices — finding the right words to say, saying them at the right time — that irrevocably changed the course of their lives?
It's not something musicals usually challenge us to consider, and it makes Merrily an infinitely rewarding experience that's a bracing reminder of how little risk is taken in contemporary musical theatre fare. 
Through Aug. 24th in the Eisenhower Theater at the Kennedy Center. Tickets are $20 to $79. Call 202-467-4600.