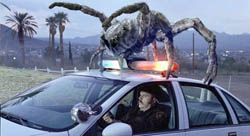 Taking a bite out of crime: Overton and big-ass spider.
A few weeks ago on the American Movie Classics cable network I caught a showing of the 1955 classic Tarantula, in which a giant spider terrorizes a small desert community. Directed by Jack Arnold (Creature from the Black Lagoon) and starting Leo G. Carroll as the hapless scientist responsible for the oversized arachnids (poor  old guy gets what I consider an unfair comeuppance), the movie is 100 percent B-grade through and through, complete with stilted performances and a monster that doesn't appear to be half as threatening as the terrified townsfolk believe it to be (it creeps along slower than a snail).
The tarantula in Eight Legged Freaks, on the other hand, is a much quicker, more nimble beast, able to topple a trailer in one fell swoop and punch through steel doors with its front legs. It's every bit as hostile and threatening as the T-Rex from Jurassic Park. And it's joined by about two hundred other enormous exotic spiders who, thanks to a diet of toxic waste-laden crickets, have grown to the size of a small car.
The spiders wreak havoc on the financially desperate town of Prosperity, Arizona. Some — a jumping variety — merely pounce upon their victims and dine away. Others spin their prey into a thick webbing, where they remain alive until the female of the species has a snack attack.
Boasting nods to Jurassic Park, Dawn of the Dead, and Gremlins, Eight Legged Freaks is less a fear-fest than it is a fun-fest. Directed by New Zealander Ellory Elkayem, the movie is playful and self-consciously silly. Though it never achieves that B-movie greatness in the way that, say, Tremors did several years back, it at least keeps you entertained.
David Arquette heads a cast of largely unknown actors and expendable extras, most of whom are turned into Spider Chow. As the film's hero figure (let's hope there's no action figure anytime soon), Arquette gives a flat, forgettable performance. He's out-acted by the special effects. Arquette is one of those quirky, borderline annoying screen presences who, thanks to his Hollywood pedigree, has found fame. Sadly, he's still looking for his talent. It's probably under a rock. With a few spiders. David Arquette's proving ground were those overly-bombastic collect call commercials. He should have remained a pitchman: at least on the small screen and in short bursts, he commanded our attention. And gave us the option to turn him off.
The remaining cast fares better, including Kari Wuhrer as the town's hard-boiled sheriff, a divorcee with two teens in tow. Wuhrer, who bears an unnerving resemblance to Debra Messing, must realize that this is her one big shot at being seen by casting directors, and so she gives it her all. Her all, it turns out, is more than adequate.
Rick Overton provides a few comic moments as a bumbling deputy, and Eileen Ryan adds some spark as Arquette's crusty chain-smoking aunt. But let's face it: the cast is incidental to the real stars of the film — the spiders.
They are indeed quite the vision — a slick blend of CGI and mechanical effects — and they race through the film with tremendous power. The spiders are notable for the sounds they make — a cross between a gurgle and a high-pitched, mischievous giggle. When a spider bites the dust, it oozes a thick, green sludge and emits an ear-shattering shriek. You almost feel sorry for the gargantuan web-spinners.
The script isn't especially witty, and you know exactly how the spiders will meet their demise the minute someone says "The old mine is filled with methane gas!"
Eight Legged Freaks will probably be gone by the time you read this review. Squashed like a box office bug. And that's a pity, as it's vastly more enjoyable than the mega-budgeted bore-a-thon Men in Black II. Why? Because Eight Legged Freaks doesn't pretend to be anything it's not. And in doing so turns out to be a far better moviegoing experience than it has a right to be.