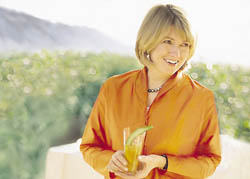 Martha, Martha, Martha: Stewart Goes Quiet
I remember compiling my first collection of melodies like it was yesterday. Since there were no cassette tapes back then, I recorded my medley of selected ditties onto a strip of used Christmas ribbon that I'd magnetized with a dryer sheet and the graphite from a No. 2 pencil. It's an enjoyable, inexpensive activity and a great way to put that post-holiday clutter to good use.
A homemade "mix" can lend your next tea social or neighborhood cookout some musical panache. My newest compilation, Quiet Time: Slow Songs for Days and Nights at Home (Rhino), is a product of Martha Stewart Omnimedia and a veritable cornucopia of songs to unwind to after an industrious day spent making herbal soap or knitting a quilt out of last season's pot holders.
Since Quiet Time is essentially an album of aura, each song was carefully selected for its mood. Lilting, bubble bath arias weave between songs with a slightly more frolicking spirit. It's these more effervescent, verve-infused numbers that give the album most of its life. These tunes aren't necessarily more uptempo than the rest, but simply splashed with a touch more pep than the cache at large. They "cook," so to speak.
But seriously. While a few of the artists included will no doubt appeal mainly to those now enjoying their golden years, there are a few crooners who I'm hoping will find an audience with the younger, "bad ass" urban crowd. Crooners like Wilco, who bridge the gap between hipster and homemaker with gentle, single-chord acoustic guitar and tinkling piano under Jeff Tweedy's soft, mild vocals. The song radiates the warmth of a crackling blaze in the open hearth of a Nantucket cottage, yet maintains a street-smart edge. Tweedy's song, "How to Fight Loneliness," conjures sorrow without feeling morbid. Tim Buckley fashions the same sentiment with "Song to the Siren," quietly but powerfully.
My dutiful followers may be a bit surprised to find Buckley, a now-deceased smack addict who once sang "Let me smell your thighs and drink a little rain," included in my Quiet Time collection. But to be honest, many of the artists found here could stand to smell a thigh or two themselves. Perhaps that would get their proverbial "mojo" flowing. Tunes such as "Who Knows Where The Time Goes" by Judy Collins sometimes make me wish that time were moving a bit faster so that the freaking song would end already. And much as I love Roses in the Snow, Emmylou probably would have done well to leave "Here, There and Everywhere" resting peacefully with Mr. Lennon. These songs come off as Muzakian filler and fall as flat as a freshly flipped buttermilk pancake.
To be honest, the album coasts on a tide of nostalgia that I'm hoping will appeal to my target demographic. Several of the songs are covers that probably never should have seen the light of day, but could very well fly with the 45 to 64-year-old age bracket of middle- to upper-middle class females. Reconciling familiar, non-offensive music with popular artists should allow these post-menopausal listeners to enjoy what is essentially soft rock without making them feel their impending senior citizenship. If I can pull this off, my profit margin will be flowering like a sun-drenched patch of honeysuckle on a breezy July afternoon. And each CD comes with a guarantee that if you're is not completely satisfied, you can use it as a handy gardening tool or a portable pocket-sized mirror. Happy relaxing!