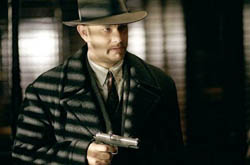 Destined for Greatness: Hanks
"What subject did you like in school?" Michael Sullivan (Tom Hanks) asks his son, Michael, Jr. (Tyler Hoechlin).
"Bible history," replies the twelve-year-old. "I like the stories."
The two Sullivans are caught up in a story of their own in Sam Mendes's Road to Perdition — an opera-sized tragedy that blends loyalty and betrayal, revenge and reconciliation. It's a little odd for a film this thematically sobering to arrive in theatres amid the mindless popcorn chompers (last weekend's other three releases concerned fire-breathing dragons, a crocodile hunter, and the umpteenth return of a masked serial killer), but audiences in the know helped Perdition debut at number two. Once word gets out that this is no dull traversal through yawnsville, that Tom Hanks's performance of a Depression Era mobster is surely Oscar-nomination bound and that the movie carries on its shoulders a weighty, worthwhile narrative, it's sure to ride out the summer like a California surfer atop a tsunami.
Mendes, who last directed the Oscar-winning dark satire, American Beauty, here turns his attentions to a graphic novel by Max Allen Collins and Richard Piers Rayner, and enlists the aid of the gifted cinematographer Conrad Hall to help bring his vision of soul-salvation to life.
Michael Sullivan works for John Rooney (Paul Newman), a mob kingpin in the days of Capone. Rooney treats Sullivan as if he were his own flesh and blood, and there are several scenes early in the film, notably one set at a piano, that masterfully convey the father-son-like bond between the two men. Rooney's natural born son — Connor (Daniel Craig) — is an arrogant heir apparent, a perpetually smirking, disrespectful dark prince. He's also a paranoid livewire. And when Michael Jr. gets a little too curious about what mysterious work his father does for a living and stows away on "a job," he witnesses Connor's sudden and unwarranted assassination of one of the mob's lowly lieutenants.
Though Michael Sr. assures that his son will keep quiet about the incident, Connor nonetheless goes on an insurance killing spree, shooting Michael's wife, Annie (Jennifer Jason Leigh) and their youngest son, Peter, in cold blood. Michael Sr. takes the shell-shocked Michael Jr. and the two go on the lam. First stop: Chicago, to see Capone's right hand man Frank Nitti (Stanley Tucci) about giving Connor up. The net of protection, it turns out, is wider than the elder Sullivan would like it to be, and he and his son take to the road, avoiding a ruthless hit man (Jude Law), while trying to seek vengeance for the murders of Annie and Peter.
The movie edges toward a climax that, while inevitable, still has the power to startle. Road to Perdition is that rare movie in which even the clichéd moments feel vibrant and fresh, as though they're being seen by us for the first time.
The underlying core of the movie is that sometimes prickly, sometimes uncertain relationship fathers have with their sons. As John Rooney puts it to his beloved Michael, "Sons are put on earth to trouble their fathers." And yet despite Connor's wrongdoings — including stealing from the mob — John cannot bring himself to give his boy over to his "adopted" son for the slaughter.
Casting Tom Hanks as a steel-hearted assassin was a masterstroke. The very presence of the actor, normally associated with compassionate, warm-hearted characters, elevates Road to Perdition's moral ambiguity quotient. But this is not a film about a character's redemption — there is nothing to be redeemed in the character of Michael Sullivan, Sr. — but rather a tale of prevention: how to keep an innocent from the fiery clutches of hell.
Even at 77, Newman remains a formidable screen presence, with that noble jaw and those piercing blue eyes. He conjures the notion of majesty here, but it's majesty encased in menace. The normally dashing Law, his teeth discolored, his complexion waxy and wan, has a field day with the role of Harlen, playing the freelance assassin who routinely clicks pictures of his victims for the paper, to a ghastly hilt. Newcomer Hoechlin imbues Michael Jr. with a reserved, sullen depth. Craig, Tucci, and especially Dylan Baker, as the mob's fussy, self-pampered accountant, round out the cast.
Conrad Hall gives the film the look of a polished antique — he works equal wonders with dark torrents of rain or a bright splash of sunlit beach. Mendes uses gore judiciously — this is no shoot 'em up — and the film is epic without being ostentatious about it. It has a look that adheres to the conventions of the genre, but its tone is a departure into a more complex, engaging territory.
Grimly absorbing, Road to Perdition isn't your typical gangster movie (though, unlike some critics, I'm not willing to say it's the best gangster movie since The Godfather — Goodfellas still holds that revered spot in my heart). Nor is it your typical summer fare. It is an anomaly that should be relished. That is to say, they don't make 'em like this anymore.