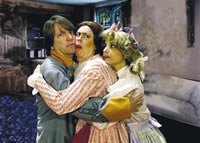 Familiar Territory: Rauscher and Dolliver with Karen Shotts.
Let us consider the art of imitation. More specifically, the "art" of imitating beloved television comedy on the postmodern stage.
When a clever bunch of theatrical hipsters recreated episodes of The Brady Bunch in the '90s, audiences lapped it up because it was a comforting reminder of perceived simplicity. But just as crucial to the formula was a camp sensibility and parodying approach that uncovered new layers of subversive subtext. The same goes for theatre companies that have staged episodes of such hits as The Andy Griffith Show and The Facts of Life.
Why, then, has Arlington's American Century Theater gone to the trouble of a straightforward recreation of sketches from The Carol Burnett Show in Laughter at Ten O'Clock?
In a sense, straightforward is about the only way you can go with this material, considering that The Carol Burnett Show — launched in 1967 and shuttered in 1978 — devoted much of its creative energy to parodies of the films and fads of twentieth-century pop culture. (Is it even possible to parody a parody?) But American Century Theater is also clear that it reveres The Carol Burnett Show as a pinnacle of American comedy and, in line with its mission to exclusively promote twentieth-century stage literature overlooked or at-risk of being forgotten, the company wants to reinforce the idea that things were just as good (and usually better) Then as they are Now.
So, if you're up for a warm-and-fuzzy trip to Nostalgia Street, Laughter is an adequate and decidedly safe mode of transportation. The talented Nancy Dolliver is about as close to a ringer for Burnett as you'll get this side of Vicky Lawrence. Bill Karukas, too, is an impressive visual and vocal evocation of Harvey Korman.
It's really more interesting, though, to watch Bruce Alan Rauscher as Tim Conway and Mary McGowan as Vicky Lawrence. Looking nothing whatsoever like their Laughter counterparts, Rauscher and McGowan give performances that more freely suggest how well their fine comedic skills must translate to a non-imitation environment.
Laughter is at its best when parodying such musical guests as Steve Lawrence (Scott Kenison), Eydie Gorme (Karen Hayes), Sonny Bono (Rauscher) and Cher (the quite-fabulous Kathryn Fuller). The actors actually sing (wasn't lip-synching de rigueur then?) — and George Chapin takes the mike twice for bizarrely funny riffs on Engelbert Humperdinck and Anthony Newley, something of an obscurity to those familiar with The Carol Burnett Show only by way of syndicated reruns sans musical slots.
Alas, if only everything else wasn't stuck so firmly in carbon-copy mode. It only serves to affirm how much Burnett's hit-and-miss sketch material relied on the chemistry of the ensemble — a chemistry that can be suggested, as Laughter does, but never replicated, which this approach to Laughter ultimately demands.
Through July 20th at Theater on the Run, 3700 South Four Mile Run Drive in Arlington. Tickets are $17 to $24. Call 703-553-8782. Visit www.americancentury.org.