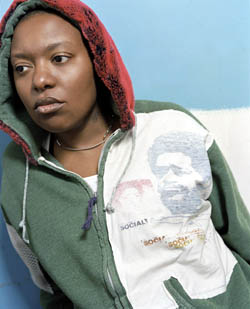 Meshell Ndegeocello
On Meshell Ndegeocello's new offering, Cookie: The Anthropological Mixtape (Maverick), the African-American lesbian artist digs deep into her soul to showcase more intimate and darker moments than on her previous releases. A mellifluous journey into the studio, streets and in between the sheets, punctuated by poetry and readings by familiar artists, Mixtape highlights Ndegeocello's creativity as a proven musician who has made a name for herself by creating neo-traditional R&B; it proves she can reinvent the genre as well. Fans of Ndegeocello have come to except nothing but the best from her, and Mixtape lives up to any and all expectations.
The tracks on Mixtape are dark and often have heavy-hitting lyrics (warning: this is not for the easy listener). Ndegeocello sets the tone for the record with the catchy tune "Hot Night," a captivating, rhythmic jazz selection complete with a sample from an Angela Davis speech. The tune itself, as well as the entire record, is rife with political meaning and an activist bent. But this is nothing new for Ndegeocello. Her music focuses on saving the black soul by starting a revolution and sticking together as a race. "GOD. FEAR. MONEY" is a commentary on the ideals and ethics of society while "Pocketbook" is a wonderful take on how money controls people. "Jabril," a song that pleads for togetherness, is dedicated to Biggie Smalls and Tupac Shakur, two rappers killed months apart by gunfire.
But there's also a sullen and peaceful side to balance out Ndegeocello's rants. "Akel Dama" features Ndegeocello doing spoken word and samples speeches from Gil Scott-Heron, Countee Cullen and Etheridge Knight to the background of a beating heart. "Let me be the rain you thirst for/Let me be the sun you adore," she sings on "Earth." "You're my Earth/My paradise/I say you are my Earth."
And let's not forget about the sex.
"Put your tongue in my mouth/Make me wet/Run your hands down my back/Grab my ass/Lay me down/Spread my leg/Come, tell me, what's it like, inside me," Ndegeocello croons on "Trust," a tune perfect for those hot, steamy nights.
And on "Berry Farms," she relays a story about an old girlfriend: "Then she walked over and licked her lips and then she said, 'You know I miss you babe.' I said, 'Cool.' I said, 'Tell me, tell me. What do you miss? She said, 'Can no body can eat my pussy the way you do.' She couldn't love me, she only wanted me for one thing."
But Ndegeocello's lyrics will not be outdone by her superb musicality. She employs a collection of different instruments and artists to compliment her style and soothing voice. Missy Elliott, Redman and Tweet lend a helping hand on the remix track of "Pocketbook," and Michael Hampton is featured on "Dead Nigga Blvd. Part 2," along with the many artists sampled on the various tracks.
Cookie: The Anthropological Mixtape takes the listener on a journey through the soul of R&B, as well as providing a glimpse of Ndegeocello's own dark journey. Fans old and new will not be disappointed with what is sure to become a commercial success.
Meshell Ndegeocello will perform live on Sunday, July 14th, at Zanzibar, 700 Water Street SE. Doors open at 8 p.m., show starts at 10 p.m. Tickets are $35. Call 202-553-9100.