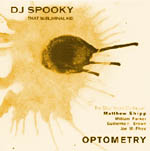 DJ Spooky
Optometry
Thirsty Ear
The Blue Series Continuum was launched on the theory that throwing together groups of mismatched musicians would have the Odd Coupling effect of producing great works of art. It's a hit-or-miss endeavor, sometimes resulting in an unexpected alchemy, and other times sounding more like an Elton/Slim Shady burlesque Grammy duet. In this effort, Paul D. Miller, a.k.a. DJ Spooky, a.k.a. That Subliminal Kid, is partnered with Matthew Shipp (on keys), William Parker (upright bass), Guillermo E. Brown (percussion) and Joe McPhee (trumpet and sax).
Miller's Renaissance Man persona allows him to disappear into Optometry, allowing himself to be absorbed into the collaborating artists and influencing their styles from within. While his electronic influence is the most omnipresent throughout the album, it's also the most subtle — a desirable quality when working within a group of five. More than anything, Optometry is a jazz album with electronic elements to tweak its beat, and while it flirts with a darker, seedier mood on several tracks, overall it retains a vibrant, New York City in-scene edge.
Samples abound, but identifying what is pastiche and what's original is basically impossible — the liner notes offer no hint, an omission undoubtedly intentional, knowing Spooky. But the album's most titillating offer comes with its guest stars, an addition that fits in perfectly with this type of freeform experimentation, and the crowd has been culled from the avant-garde's finest. Billy Martin, of Medeski, Martin and Wood, guides the title track through eleven minutes of dueling instrumentation, vying with Daniel Bernard Roumain on violin for the forefront. DBR, who has performed with the likes of gay choreographer Bill T. Jones, Dizzy Gillespie, 2 Live Crew and Ray Charles, is one of Optometry's many to-be-revealed secrets. You stumble upon him in the credits after hearing his soulful, swaying string work, only to discover that he's only one many venerated non-celebrity musicians from the NYC art crowd to appear here.
Napoleon of IsWhat?! presides over a discordant cluster of jazz beats and rhythms with an expertly delivered spoken word, as does Carl Hancock Rux, who lays down his own subdued version of a monotone rap over the slithery horn blowing of McPhee.
The whole package is wrapped up and delivered by Spooky's ubiquitous presence. He lends a shift in rhythm here, a drum beat there, seemingly following the lead of the others rather than taking the reigns of the flying umbrella himself. The album does fall into the realm of severe esotericism at times — how about "Absentia Absentia (Dialectical Triagulation III) featuring High Priest of Anti-Pop Consortium" for a title? — but even when you don't understand it, that doesn't mean you don't enjoy it. The mystery of it is exactly what makes it enjoyable. It's beyond you, which is something rarely heard in an "electronic" disc filled with transparent trance or deep house. A good example is the John Cage diatribe "Anarchy" reprinted in the liners, a tribute to Buckminster Fuller. Don't know who he is? That's the point. You're supposed to find out. It's one more part of the package that you forces you to put in a little extra effort on your own part, and that is Optometry, and Spooky himself, in a nutshell.