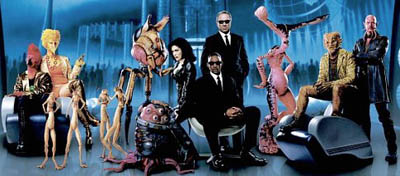 Misery loves company. How else to explain the multitudes who, over the five-day July 4th weekend, spend time and money (lots and lots of money) in America's multiplexes keeping the misery known as Men in Black 2 company?
If MIIB exists purely to make money, then it has already succeeded magnificently. The box office for the Will Smith-Tommy Lee Jones alien rehash raked in a galaxy-busting $90 million in five days, proving once again that audiences are lemmings and sequels, their cliff.
If, however, MIIB exists to further a series, to cleverly and adroitly push the limits of the first film and offer up an even more enjoyable moviegoing experience, then it failed at its task with an enormity only its box office can top.
It is, without question, one of the worst films of the year, and one of the sorriest sequels in the history of movies. And that includes the forthcoming Halloween: Resurrection.
The first Men in Black was a fresh, zippy affair, poking fun at, among other things, The X-Files and alien conspiracy theorists. The idea was that intergalactic aliens did indeed walk among us, and in fact a whole secret branch of the government existed to maintain order and keep immigration to Earth at an acceptable level. It was a cute concept, made even cuter by the teaming of gruff, sandpaper-faced Tommy Lee Jones with the boyishly peppy Will Smith. The pairing was inspired, and the movie, which featured joyride direction from Barry Sonnenfeld (The Addams Family) and a flying saucer's worth of imaginative, freaky-deaky creatures courtesy makeup maestro Rick Baker, was a black comedic joy. It had just enough ick factor to make us squirm (Vincent D'onofrio's wonderfully subtle "bug" in a rotting human skin suit) and maintained a perpetually playful, cartoon-frenzied mode (who can forget the gag in which Smith's Agent J delivers an alien baby — er, globlet).
MIIB doesn't even attempt to match the first. It simply yanks some of the best throwaway gags from the 1997 film — the worm guys; Frank, the talking pug; Jeebs, the informant with the regenerating head — and elevates them to major narrative status without adding anything significantly new. The result isn't just a one-day-old muffin. Or even a two-day-old muffin. It's a five-year-old muffin.
Even the villain — a Little Shop of Horrors-inspired man-eating plant masquerading as a Victoria's Secret model (Lara Flynn Boyle) — is less imaginative than the first movie's creepy crawly. Serleena, as this intergalactic baddie is known, arrives on Earth in search of an intergalactic light that, from what I could tell, would give her dominance over the universe. Whatever.
Smith and Jones seem to have misplaced the crackle and pop that made their work in the first film snap. Their performances are phoned-in on a static-plagued mobile. Reliable stalwart Rip Torn, returning as MIB chief Zed, is given so little to do that he might as well be a walk-on extra.
Rick Baker's creations are a little more elaborate this time around, but then, that's what money and improved technology will buy you. With the exception of Johnny Knoxville as an alien with a second, smart-alecky head, and a locker-full of small furry creatures that look like a cross between Ewoks and George Pal's Morlocks, Baker's creations are blasé at best.
The movie opens with a grandly overblown sequence set on the New York subway and closes with a grandly overblown sequence set on a New York rooftop. Neither are very engaging. In between, MIIB has little to offer but extreme tedium.