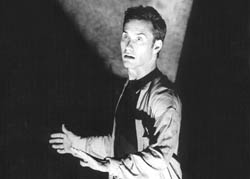 Scott Fortier as The Son.
(Photo by Fredde Lieberman)
"A work of art dealing with the night, especially a dreamy, pensive composition for the piano."
My trusty Merriam-Webster's definition of the word Nocturne, from which Adam Rapp's play takes its title and many of its characteristics, ultimately provides the best focal point for processing the intricate, often-dense creation that closes The Studio Theatre Secondstage's current season.
Critically lauded in its Boston and New York productions — even elevated to peer status with works by such playwrights as Tom Stoppard, Edward Albee and August Wilson in The Best Plays of 2000-2001 — Nocturne may have a five-actor cast. But it's essentially a one-character work, with The Son (Scott Fortier) bearing all of the narrative weight while The Sister (Brianna Gwen Parsonnet), The Mother (Andrea Hatfield), The Father (Timothy Rice), and The Girl with the Gray-Green Eyes (Kelly Ewing) appear as figures who barely speak for themselves and are fleshed out almost exclusively through memories recited to the audience by The Son.
We meet The Son in the present when he's thirty-two, a troubled New York loner with a confession to make. From there, he jumps back fifteen years to his suburban Chicago family life, shattered by the gruesome tragedy of The Sister's decapitation when the nine-year-old girl runs into the path of The Son's brake-failed car in front of their home. A piano prodigy, The Son is shut out emotionally by his grief-destroyed parents, so he flees to New York where he slowly reinvents himself as a bookseller and self-taught novelist.
Music still dominates The Son's life, though — his recollections of childhood practice regimens, his sister's emerging gift with the violin, the '80s pop radio tunes that elated him on the summer night of the accident. Constantly speaking to the audience, he becomes a composer at work, building lyrical phrases in the realm of words where he's immersed himself. It's a incredibly bold approach for Rapp (a novelist himself) to take, foregoing more traditional dialogue for poetic text that, in the wrong hands, begs to be read instead of spoken.
Shaped by director Keith Alan Baker, the Secondstage effort, though not a complete failure, doesn't manage to lift Rapp's material to a transcendent level where you're free to forget the unusual conventions imposed on the work. Fortier admirably tackles a Herculean acting task as The Son, but when Nocturne opened to the press last week, he never consistently reached the point where The Son's grief, rage, yearning and self-doubt are intrinsic to the man we must spend a couple of demanding hours with.
More problematic, though, is that Fortier seems inherently uncomfortable with — even fearful of — Rapp's text. An actor in this role obviously must wear it like a second skin, and Fortier — a ball of high-pitched tension– is still approaching it like a mountain that he's not sure he can climb. Perhaps the production was under-rehearsed, or perhaps Fortier has grown more confident by now. I suspect, however, that he just isn't the right actor to carry off the part.
It's an unfortunate conclusion to reach, for it's easy to hear in Nocturne phrases of seductive, moving drama. But it's clear that Rapp has structured them in a more coherent, enjoyable composition than Secondstage performs.
Through August 4th at The Studio Theatre Secondstage, 14th and P Streets NW. Tickets are $20. Call 202-332-3300. Visit www.studiotheatre.org.