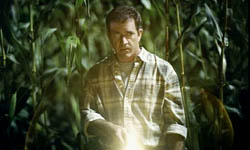 The corn is as high as an alien's eye: Gibson
Signs is not the movie you think it is.
No matter what you think you may have gleaned from the film's previews (on television almost around the clock at this point), M. Night Shyamalan's latest outing is a full-blown surprise and, at times, a shock to the system. It's an intense, gripping drama about a man's loss of faith, and the strange, insular nerve-jangling journey he must take to regain it. Considering that Signs employs crop circles — those huge, elaborately formed designs that mysteriously appear in corn fields overnight — as its narrative pounce point, you'd have every right to expect a film that was big, bold, and daring, filled with special effects and magical Hollywood moments.
But this is a Shyamalan movie. He eschews grandeur for intimacy. Details, not visual bombast, are what's important and Shyamalan adheres to the tried-and-true Hitchcockian formula that the less we see, the more frightened we'll become. Shyamalan is the new master of suspense.
Signs begins on an ill-omened note with the discovery of a crop circle in the field of Father Graham Hess (Mel Gibson), a widower with two young children. Grieving the recent loss of his wife, feeling abandoned by God, Hess's beliefs are put to the test once the circle appears. Is it a hoax? An alien visitation? Thing is, the circles suddenly — you should pardon the expression — crop up on hundreds of farms throughout the world. Overnight.
On a human scale, Signs is about the reclaiming of faith, but Shyamalan has a larger target here: our almost narcotic dependency on television. Several of the movie's most critical moments revolve around the family set — whether it's turned on or off.
The Hess family gets the bulk of their information from television, both pacifier and prophet. And Shyamalan uses the common household device to achieve maximum horror. One of the movie's most unnerving moments occurs during a newscast. "The image you are about to see will disturb you," warns the anchor. But nothing she says can prepare us for what we see. The trouble is, it's impossible to determine if what we're looking at is real. Or is it the most elaborate hoax of all time? Signs answers this question slowly, moving steadily from a simmer to the boiling over point.
Part of what makes Shyamalan such a good storyteller is his knack for withholding information until it's time to let the cat out of the bag. Still, this can be a problem. Shyamalan remains trapped by the technique he successfully utilized in The Sixth Sense. Like that movie and the less successful Unbreakable, Signs includes a major revelatory moment at the finale. But where The Sixth Sense caused us to gasp upon the realization of its main character's fate, Signs offers up only a wheeze. The denouement may be a wimp-out, but it doesn't negate the stunning, seat-clenching hour and forty five minutes that preceded it. Shyamalan is an accomplished technical director, with a fine mastery of mood and atmosphere (aided here by the masterful cinematographer Tak Fujimoto), so that it's a bit of a letdown to see him still relying on tricks that distract from the movie's greater spiritual purpose.
Shyamalan has replaced brooding Bruce Willis with Mel Gibson. And thank God for that. As Graham, Gibson gives one of his finest, deeply felt performances in years, one that's relayed with a blend of fury and frantic desperation. Joaquin Phoenix has some strong moments as Graham's supportive brother, Merrill, and Rory Culkin (of the Culkin acting clan) shows that his magnetic performance in You Can Count on Me was no fluke. Culkin is a gifted pint-sized performer, as is Abigail Breslin, who plays his sister Bo.
Signs is bound to disappoint those seeking another Sixth Sense from Shyamalan. But for those willing to allow themselves total narrative immersion, this unconventional drama will provide more than enough pleasure.
---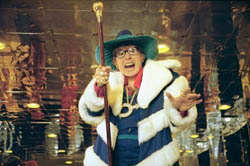 Mike Myers as Austin Powers in "Goldmember"
Austin Powers in Goldmember is good for a laugh. Which, of course, is the point.
An exercise in silliness, this third movie in Mike Myers's popular spy spoof series, is every bit as enjoyable as the two that preceded it. Myers returns as the dentally challenged British '60s superspy (transplanted to the present). He must once again thwart his nemesis Dr. Evil (also Myers), who plans to destroy the world by crashing a solid gold asteroid to its surface. In his assist is Goldmember (once again, Myers), a Dutch disco daddy from the rollerboogie-rife seventies who lost his genitalia in an "unfortunate smelting accident," and who has a penchant for cannibalizing his own sun-damaged, peeling skin.
As with all the Powers movies, there are times when Goldmember takes giddy, imaginative flight — as in a dazzling opening action sequence that parodies both Mission Impossible and those ridiculously elaborate James Bond openers — and times when the humor entrenches itself soundly in the toilet. Either way, it's pretty much a laugh-fest from beginning to end. Still, in those infrequent moments where director Jay Roach's movie dies, it dies hard.
Several returning castmembers, such as Robert Wagner's Number 2 and Mindy Sterling's Frau Farbissina, are woefully underutilized. Michael Caine, as Austin's father, gets off a few good lines, nothing more, but Beyonce Knowles lends fine sassy attitude as Foxxy Cleopatra (a dead-on Pam Grier knockoff).
Essentially, the movie belongs to Myers. And to Verne Troyer, who returns as Dr. Evil's clone, Mini-Me. Troyer steals every scene he's in, hitting a comic bull's-eye with every grimace, every dog-like growl, every high pitched "Eeeeeeee!" He's the real secret weapon behind Austin Powers.