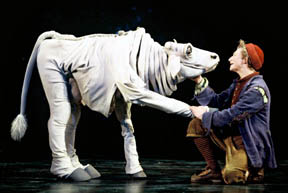 Chad Kimball as Milky-White & Adam Wylie as Jack
There's nothing inherently wrong with the new Broadway cast recording of Sondheim and Lapine's Into the Woods (Nonesuch). The revival has been generally well-received, its popularity was bolstered last month by the Tony Award for Best Musical Revival, and the production values on the CD are nothing less than immaculate. It's just that whatever staging improvements have been achieved since the original Broadway production fifteen years ago aren't apparent on the new recording, however enjoyable it may be.
Take, for example, the original Witch, Bernadette Peters, and her 2002 counterpart Vanessa Williams. A straight voice-to-voice comparison clearly favors Peters, even though Williams's vocal stylings are perfectly pleasant and her stage performance is said to be a solid, engaging, stand-alone interpretation.
Once you've seen the revival, you'll definitely want to have a copy of this cast album to relate most directly to your performance memories. If you don't catch it, though, there's no pressing need to add this release to your collection. The 1987 original cast album still shines as the definitive recording to date, and that's the one you'll want to get if you don't own an Into the Woods recording at all. And even if you're really into Into the Woods, the wiser supplemental purchase is the 1991 London cast recording, which reflects more bold interpretive choices instead of the 2002 project's subtle variations on what was pretty near perfect to begin with.
The original cast recording for this year's Tony-winning new musical, Thoroughly Modern Millie (RCA Victor), is a jubilant triumph that does exactly what the best Broadway albums should: it transports you from your living room to the Great White Way by distilling the essence of the excitement a good hit musical generates (a fevered imagination doesn't hurt either).
It doesn't matter if you love or hate (or know zilch about) Millie's ancestor, the 1967 film vehicle for Julie Andrews, Mary Tyler Moore and Carol Channing. Little of the soundtrack or screenplay remain in this Broadway effort, buoyed with an sparkling Jazz-Age-inspired score by emerging "new guard" musical theater composer Jeanine Tesori (Violet, Twelfth Night). Dick Scanlan contributes the fun new lyrics, and the delicious orchestrations by Doug Besterman and Ralph Burns help keep you smiling, humming and tapping your toes track after track.
It's also a joy to discover the voice of Broadway newcomer Sutton Foster, an overnight sensation thanks to her Tony-winning star turn in Millie. Foster's brassy style is pretty far removed from the more reserved sound of Andrews as the unflappable flapper, and it's perfect for the ecstatic theatricality of this thoroughly modern musical.
From the ever-burgeoning realm of new CD releases of older musicals, I've been getting a particularly giddy kick out of the 1960 original London cast recording of the Lionel Bart musical Oliver! (Decca Broadway). The familiar score pulses with the raw energy of its then-newness, and the cultural authenticity of a British company's take on Bart's Dickens-inspired material shouldn't be underestimated.
Decca Broadway also sheds new light on the Bernstein canon with a CD release of the 1953 musical Wonderful Town, starring Rosalind Russell and based on the famous play My Sister Eileen. Like the better-known 1945 musical On the Town, Bernstein collaborated with lyricists Comden and Green on Wonderful Town, and the result is a thrilling listen with such highlights as "Christopher Street," a hooty homage to the "innocent" 1950s perspective of Greenwich Village bohemia.