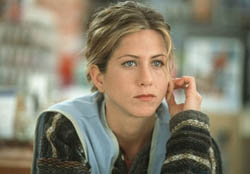 Adultry, anyone?: Aniston.
There is a moment in The Good Girl involving blackberries that comes as a complete shock, in part because it depicts a sinister side of America's television sweetheart Jennifer Aniston. The actress, whose film roles up to this point have veered toward frothy and cuddly, takes up the semi-serious gauntlet with this dark comedy and hoists it valiantly. The Good Girl proves that Aniston could have a successful post-Friends film career if she plays her cards right.
Written by Mike White and directed by Miguel Arteta, who last collaborated on the off-kilter homoerotic comedy Chuck and Buck, The Good Girl is cluttered and indecisive. Neither White nor Arteta seem able to settle on a consistent tone, and the movie skitters toward (but never over) the edges of black humor and deeply painful drama, often simultaneously. There's also a homogenized feel to the proceedings, a kind of smoothing over to make this story of seduction, adultery, blackmail and thievery palatable to general audiences.
Aniston portrays Justine Last, a 30-year-old department store cosmetics clerk. Justine hates her job and is bored and disgusted with her pothead (and infertile) husband — Phil (John C. Reilly). Her life is as drab as the housewives who come in to the store for a free makeover.
Things change when Justine befriends a new cashier at the store, a sullen, sad-eyed 22-year-old named Tom (Jake Gyllenhaal). Tom is so obsessed with the book "Catcher in the Rye" that he insists on being called Holden. Justine finds herself drawn to the younger man's vibrant, lusty passions. No sooner does the affair get off the ground than, as the saying goes, the plot thickens. The Good Girl takes several turns you don't expect, along with a few that you do.
"I'm depressed, but you're really depressed," guilt-riddled Justine says to Holden in an effort to talk him out of a foolish escapade. Sweet and naïve, Holden seems harmless enough, but a sense of danger, fueled by the potential of alcoholism and depression, lies beneath the surface. Unfortunately, White and Arteta don't explore Holden's condition as much as they start toying with plot mechanisms, setting up a final act in which the dominoes will topple in proper order. The fascinating and complex character study that permeates the first half of the story gives way to basic contrivance.
It would be hard to imagine a woman of such peaches and cream beauty, of such obvious keen intellect staying in a one-horse town for her entire life working at a second-rate retail establishment, but Aniston makes you believe that Justine truly belongs there. It's a fine, polished performance, deep and involving, and it pretty much carries the movie through its choppier moments.
Similarly, Gyllenhaal gives an intense, poignant performance. The irony here — and the movie is stockpiled with plenty of small ironies — is that Holden's lost soul condition is of his own doing. He has succumbed to the fantasy of his beloved book, fancying himself a latter-day J.D. Salinger.
Tim Blake Nelson is unsettling as Phil's best friend and loser-in-arms, Bubba, and John Carroll Lynch, of The Drew Carey Show, has some terrific moments as the Retail Rodeo's put-upon manager. The movie's funniest moments hail from Zooey Deschanel, a bored and bitter store employee who thinks nothing of swearing at the customers.
The Good Girl is an odd movie. But the oddest thing about it is the mundane message it ultimately delivers: that happiness and contentment can be reignited from a spark of infidelity.
An older-woman, younger-man affair of a different sort takes place in Tadpole, a small indie that longs — oh, how it longs — to be a smart, witty, sophisticated Manhattan-esque type film but turns out to be nothing more than a helium-filled balloon, floating up, up, up, up until it pops, its crumpled remains crashing to the ground.
While visiting his father and stepmother on Thanksgiving break from boarding school, the brilliant and arrogant 15-year-old Oscar Grubman (Aaron Stanford) drunkenly stumbles into a one-night liaison with 40-year-old Diane (Bebe Neuwirth), his stepmother's best friend. How this comes to pass is really of no consequence; what's important is that Oscar has a thing for his stepmother Eve, played with a kind of distant charm by Sigourney Weaver.
---
Tadpole's plot stretches the boundaries the relatively short running time of its 88 minutes, as Oscar struggles to keep his parents from finding out about his tryst. A prolonged restaurant scene, at which a nervous Oscar frantically tries to keep Diane from spilling the beans, is almost painfully inept.
With her cat who ate the canary grin, Neuwirth is the best thing in Tadpole, which also features a bearded and husky John Ritter as Oscar's pretentious pop, and cameos from a cadre of recognizable New York actors. Had it been directed by Woody Allen during his fertile years, Tadpole might have been a funny and diverting coming-of-age film. But director Gary Winick (whose "Special Thanks To" list in the film's closing credits is almost as long as the movie itself) and screenwriters Heather McGowan and Niels Muller show no aptitude for humor, much less thematic originality. Shot on digital video, which gives the movie an irritating prismatic look.
Tadpole is this year's art house darling (I wonder if it would have received such a wide release had Oscar's character slept with an older man — for the answer to that, see last year's L.I.E.). In fact, it is nothing more than a wart-covered frog disguised as a prince.