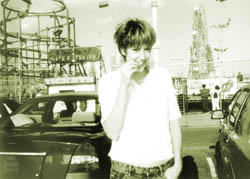 Beth Orton
Not that it matters, but Beth Orton is huge. Six feet tall, to be exact. Being tall may have bolstered Uma Thurman's career — all it ever got Orton was an ill-fitting wardrobe (the "irregular sizes" department can be cruel, all beige pant suits and too-tapered Capris). But unlike her high-center-of-gravity contemporaries, she doesn't have a swaggering overstretched bone in her body.
Daybreaker (Astralwerks) is the product of a woman who has never fit into clothing or life like she's supposed to. Much has been made of her trailblazing fusion of electronic and folk, but that's not what makes her so likable. Electronica has crossed so many genres they don't even bother to change the X-Many-Bazillin-Served sign anymore. What makes Orton's hybrid so much better than most is that it doesn't sound like a hybrid at all. "Sometimes I slip inside the imagery," Orton sings on "Paris Train" (oh, the double-entendre of it all!) and even as she says it, she's already disappeared into the music, ducking her head under the doorjamb.
Comparisons abound, of course — on the three-act "Mount Washington" she's a slightly less-drugged Dot Alison, with "Concrete Sky," she's aping the Stevie Nicks delivery — and she's enlisted her old friends, the everything-we-touch-turns-to-drama Chemical Brothers, to produce the title track. But Orton rightly prevents Daybreaker from falling into the realm of chill music or ambient. It remains steadfastly folk with electronic influence, a slight but for-the-better change since her Trailer Park debut.
In fact, just to drive home the point that as much as she's liked by the rave scene she remains glowstick-free, Orton pulls in Ryan Adams and (of all people) Emmylou Harris for some darn tootin' countrified hoedownin'. Adams, it turns out, is the perfect bee in Orton's introverted bonnet, backing her up with his own equally mournful and unassuming vocals. Harris, on the other hand, revamps "God Song" into a great country tune for this side of the Corn Belt.
But in the end, Daybreaker is Orton as always, with a few minor variations. She doesn't change too much, which is just fine. Someone of her stature need not try to stand taller than she is.
Sonically Sound
It took some mighty savvy marketing to bring a movement as inaccessible as No Wave to the suburbs, but lo and behold, 1995 saw disaffected tweeners from Long Island to Orange County donning that now-famous Sonic Youth Washing Machine t-shirt after being inspired by the album's cover art: a photo of Sonic Youth Washing Machine t-shirts.
Okay, so maybe the whole marketing thing was just a fortunate accident. But the fact remains that the cat-scratch New York underground art house noise that the Youth were experimenting with was far from FM-friendly, so their subsequent fame says a lot about their talent. Sonic Youth had a rough late-Nineties, but Murray Street (Geffen) sees the band very much back on track. Their latest effort will likely sit well with subscribers to Spin and Punk Planet alike.
Thurston Moore and Lee Ranaldo create a dreamily ambient soundscape with dueling, chordless riffs, piled loosely under Moore's shell-shocked, glassy-eyed vocals. Kim Gordon jumps in as lead singer on two tracks with her own breathless, methodically-urgent voice, sounding a bit like Clinic's Ade Blackburn, but without the whole sung-from-the-netherworld delivery.
But overall, the vocals play second fiddle to the long, rambling guitar solos, which stretch many of the songs to a well-worth-it seven or eight minutes. "Karen Revisited" clocks in at eleven, a full-circle journey through clusters of clashing instruments and then into a galaxy of reverbs and bleeps where it all bleeds out into rumbling bass. Other pleasers include "Disconnection Notice," which creeps along before finally exploding into a Zeppelinesque guitar solo, and "Plastic Sun," with a rushing, industrial blissfulness that forgives Gordon's somewhat wooden vocals.
With just enough avant-garde to separate it from the throngs of Kim Deal wannabes, Murray Street is a solid comeback for a band that, in spirit at least, never really went away.