As summer winds down, it's time to take a moment and seriously consider the idea of the summer beach book. Aside from the fact that the vast majority of "beach" books sold will never come close enough to an ocean to even smell the salty air, the conceit that summer is a time for reading badly written and boldly stupid books should really come to an end.
You can read smart books in the summer. For that matter, you can read dumb books in the fall, so if you've been saving Ann Coulter's Slander or Richard Goldstein's The Attack Queers for a cool October night, go right ahead. But for a full, balanced diet of the printed word this fall, you should try sampling of high, middle and perhaps even low brow.
One way to start off the fall is the just-out-of-the-gate Middlesex (Farrar, Straus and Giroux), by Jeffery Eugenides. A few years back, Eugenides made a big literary splash with The Virgin Suicides, a mournful and dreamy novel about a family of beautiful and doomed girls. For his sophomore outing, Eugenides introduces us to Calliope Stephanides, a young girl whose attraction to a fellow girls' school student is the first step in her discovery that she is not, in fact, a girl or a boy, but both — a hermaphrodite. Eugenides explores issues of gender and attraction and family over the course of eighty years, from America to Greece.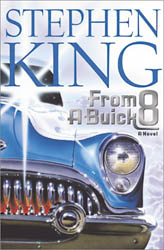 If you like your novels both popular and literary, you may look forward to the October debut of Umberto Eco's latest, Baudolino (Harcourt). In the midst of the latest Crusade in 13th century Byzantium, the eponymous hero — a youth with a skill for language and a knack for lying — comes under the charge of the emperor, and finds himself embarked upon a quest for the Holy Grail and the solution to a murder. Billed as a historical fantasy, Baudolino should hold great delights for fans of Eco's previous works, such as The Name of the Rose.
Speaking of popularity — especially with the gay audience — perennial literary warhorse Anne Rice is back with the latest installment of her Vampire Chronicles, Blackwood Farm (Alfred A. Knopf). In this installment, a young man becomes a vampire against his will and embarks on a search for meaning and Lestat, and spends the decades and centuries traveling classical Europe and New Orleans. Sound familiar? Well, this time the new vampire has an evil doppelgänger to contend with. A sure bet for vampire fans who still care — of which there are many.
Stephen King is in many ways as much of a warhorse as Rice — but where Rice has mainly stayed within the bounds of three continuing series, King has simply written whatever he takes a fancy to, rarely venturing into the world of sequels and series (the Dark Tower excluded). This summer past saw the literary, New Yorker magazine King, with his short story collection Everything's Eventual. For fall we get the more traditional King in From a Buick 8 (Simon & Schuster), a more straightforward tale of terror about a classic car that serves as a bridge between our world and…something else.
If you're looking for more technology-based chills and thrills, Michael Crichton is back this November with Prey (HarperCollins), about a secret research facility in the desert southwest under attack by an swarm of micro-particles they created themselves. For more gothic chills, gay horror writer Douglas Clegg checks in with a tale of evil houses and family secrets, The Hour Before Dark (Dorchester).
Acclaimed science fiction writer and literary critic Samuel R. Delany brings us The Mad Man (Voyant Publishing), in which a philosophy student's investigation of the death of a Bacchanalian 1980s philosopher leads him into a spiral of extreme sexual adventures. Publisher's Weekly noted that Delany's latest is not for the squeamish, as excrement plays a large role in some of the sex, and "the faint of heart or stomach will have fled" before the end. Sounds like fun!
On a very different note comes Katherine Forrest with Daughters of an Amber Noon (Alyson), a sequel to her two-decades old Daughters of a Coral Dawn. In the first novel, Forrest told the story of a group of women who left Earth to colonize a planet — in the sequel, she tells the story of the women who stayed behind on a barren, hellish Earth and formed a secret society called Unity. The group is pursued by a deranged emperor determined to destory them.
Other books coming this fall include:
Love in a Dark Time (Scribner), by Colm Tóibín, is a non-fiction examination of the work of homosexual writers from Oscar Wilde to Thomas Mann to James Baldwin, and how the secret of their private lives was reconciled with their public art.
The Last Temptation (St. Martin's Minotaur), by Val McDermind, Lambda Literary Award nominee for her Lindsay Gordon mysteries, is a forensic psychology thriller about a killer stalking psychiatrists and the after-effects of the Cold War in Europe.
Different People (Alyson), by Orland Outland, is the most likely candidate for fall's romantic brain candy, following the two men who take diverging paths that still, as destiny would have it, intertwine.
101 Reykjavik (Scribner), by Hallbrímur Helgason, comes to us from Iceland, telling the story of super-slacker Hlynur Bjorn, whose cycle of web-surfing, drugs and occasional sex is interrupted by his girlfriend's pregnancy and his surprise discovery that he just shagged his mother's lesbian lover.
Screening Party (Alyson), by Dennis Hensley, takes the author and his group of friends on a only partly magical, quasi-mystery tour of movies, via Mystery Science Theater-like commentary on movies from Basic Instinct to Crusing.
Hero of Flight 93: Mark Bingham (Alyson), by Jon Barrett, who expands on his profile of the gay September 11 hero, interviewing family and friends to find what made him the man he was.