Photography by Michael Wichita and Jackie Hubschman
Being so close to Washington, there are spectators here at the Atlantic Stampede who have probably seen more drag queens than horses in their lifetimes. To them, "wild drag" sounds more like a scuffle on 17th Street, false eyelashes flying like shrapnel. The rodeo's wild drag event is sort of like that, the only difference being the addition of an uncooperative steer. A cowgirl named Anita tries to describe it, but it quickly becomes clear that this is something that must be witnessed firsthand.
Anita is here with her parents, two shockingly liberal elderly West Virginians. They're here to support their lesbian daughter in an event that involves putting a man wearing a muumuu on a running cow. This is Anita's second year at ASGRA's annual gay rodeo in Gaithersburg, Maryland.
"I rode when I was young, but then I stopped," she says. "I just started up again in the past five or six years." And though Anita grew up on a ranch, she never had her own horse. "My parents wouldn't get me one," she says, as mom rolls her eyes.
The wild drag event is just one aspect of many that distinguishes this rodeo as an obviously queer undertaking. A quick glance around the arena seems to indicate that Atlantic Stampede is just rodeo business as usual, but the double-take comes when you notice the man in the evening gown sitting on a picnic table smoking a Marlboro Light. That man is Miss ASGRA 2003, according to her sash. She flicks her cigarette and walks toward the marketplace.
Ahh yes, the marketplace. Just the fact that there is a marketplace makes this rodeo totally gay. Any sort of western wear you might want for role playing is here. And the big, floppy hats? A bald man's Shangri-La. A kiosk doles out leather goods to even leatherier men. The size of the belt buckles, emblazoned with images both earnest and camp, defies all common sense.
You might expect that a gay rodeo would lavish it up a bit on the cuisine side. Not a full brunch, necessarily, but at least some produce or maybe a few Fresh Fields imported Swiss cheese cubes. Instead, large chunks of what's being ridden inside the arena are being grilled outside of the arena. The smell of beef is omnipresent, and the food stands boast such dining options as "Big Fat Daddy's Famous Pit Turkey," "Gunsmoke Half Pound Burger," and the ambiguous "All The Fixins." Ask the man with the tongs if they have anything vegetarian available and he'll likely suggest chicken.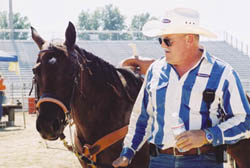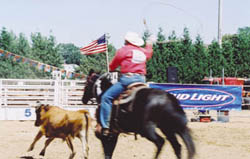 With so much peripheral activity, it's easy to forget that there's an actual rodeo going on. The bucking bronco event — the quintessential hat-in-the-air yeehaw that any self-respecting ignorant city slicker associates with cowboys — is basically like watching NASCAR but with a crash every lap (which is, of course, exactly what most people are hoping to see when they watch NASCAR). The kicker of the bronco event is that even if the rider wins by staying on the animal for six seconds, he still gets flung into the dirt like a wet towel. Because that's the only way to get off. This is if you win.
Naturally, there are injuries. A woman named Crystal in electric pink jeans bites it hard. She's down for a moment before limping away, and by the end of the day, her limp has gotten worse. She snaps her gum in synch with her hobbled gait. When asked if she's ever been thrown that hard, she nonchalantly replies, "Every fucking rodeo."
Whether or not the animals are injured as well, each rodeo brings with it the usual speculation about a PETA protest. The infamous Red Paint Brigade was a no-show this year. Rob, a ten-year gay rodeo veteran from Texas, says animal rights groups don't understand the rodeo.
"Horses become quite melancholy if they're not ridden," he says, stressing that the gay rodeo is cruelty-free.
Cruelty-free for the animals maybe. For the human participants, it's not so clear. As mustachioed men squeeze into ill-fitting sundresses in preparation for wild drag, you get the feeling that someone should be throwing red paint at Ann Taylor for such unforgiving cuts. Into the arena go two teams, each consisting of a man, a woman, a steer, and the star: a drag queen.
A long line is drawn in the dirt with white powder. The drag queen stands on the opposite side. The object is to get the steer across the line, put the queen on its back, and then cross the line again. The catch is that the steer doesn't see a line on the ground, but a barrier that may as well be a brick wall. Crossing that line is the last thing it wants to do. Wild drag quickly degenerates into slapstick.
Anita's team is the last one up, and it doesn't take long for both teams to lose control of their steers, which take off. The animals run to the corner of the arena with their pursuers close behind. Suddenly it's one big, tangled mass of ropes and horns, with two drag queens trying desperately to mount in the process. In the end, Anita's team loses by a hair, but in rodeo style, everyone cheers for them anyway.
When you consider that Philip Morris created the Marlboro Man to toughen the image of their cigarettes, it says a lot about what our culture considers a cowboy to be. Cowboys are supposed to be musclemen minus the waxing, and animal lovers without the cute puppy dog calendars. They're supposed to be romantic in a strictly non-Fabio sort of way. And they're supposed to be straight, which makes the gay rodeo such a tweak in our usual circuit of queer events. Not only does an event like this influence public perception of the gay community, it alters our perception of ourselves. Once you've seen a cowboy in a corset chase a cow across a field, drag bingo looks positively bland.