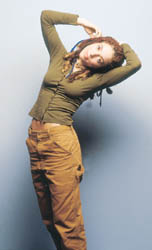 Ani DiFranco
There's no business like show business. Unless you're Ani DiFranco, in which case you'd probably fire your agent for even suggesting such a thing, and then write a song denouncing him for it. Which she's done. Twice.
So Much Shouting, So Much Laughter (Righteous Babe) is Ani live — her best milieu. It comes five years on the heels of Living In Clip, her other live comp from '97, and the "tipping point" album which many fans still use to divide her career into pre- and post-. So Much Shouting could prove just as seminal. A major shift in tone, it sees DiFranco at her most ambitious in years, and displays a new maturity without slipping in the energy department. If anything, it's her most energetic yet, dramatic in depth and wise with age. "She's 19 going on thirty/Or maybe she's just thirty" she sings of you-know-who.
In a lot of ways, So Much Shouting is the intersection of all her efforts from the past five years. The uncharacteristic optimism of 1998's Little Plastic Castle can be attributed to her engagement to Andrew Gilchrist, her sound engineer who she married that year and who co-produced the album with her. To The Teeth and Up Up Up Up Up Up in 1999 saw DiFranco disengage from her swoon and get back to progressive politics as usual. And last year's Revelling/Reckoning confused friends and foes alike, a major departure into jazz for the urban-folk singer. But her latest, a combination of the array that came before, suddenly makes her methods clear.
Bringing together elements of jazz, funk and blues to her solid foundation of folk and punk, DiFranco's live performances from 2000 to 2002 are her strongest ever. Leading a six-piece outfit, songs like "Grey" burst out of their shell and into rafters-crashing instrumentation, with a passion and drama that far exceeds the song's original recording. "Dilate", the title track of her '96 album, was originally a tearjerker recorded by a singer disillusioned by sudden fame, and the tone corresponded. Today, DiFranco sings it as a survivor's battle cry.
Along with the familiar tracks are three new efforts, including a nine-minute spoken-word slam delivered with classic Ani candor and intensity. The poem, "Self Evident," written in the days following Sept. 11, tears through the media glut of continuously-looped footage of unasked questions, striking several untouched — and politically volatile — chords. "On a morning beatific in its Indian summer breeze/On the day that America fell to its knees/After strutting around for a century/Without saying thank you or please" — one of the less confrontational bytes (really) — the poem is by far her most emotional, even more so than the first-person, pro-choice call-to-arms "Tiptoe."
As a whole, So Much Shouting is more cleanly produced than Living In Clip. Purists may criticize its lack of rawness (during her performance of "Dilate," DiFranco stopped mid-song to hush the belligerent audience — an interruption completely edited out of this recording), but the polish is a necessary evil for the complex arrangements, which demand a heavier hand in the studio, and it remains far less scrubbed than its major label counterparts. Her original artistry is untouched.
DiFranco's knack for reinventing her songs every time she performs has not only kept them fresh, it's also led to their seemingly limitless permutations, and this double disc is the latest proof. As the poet laureate of the activist world, she's buoyed a movement through thick and thin. As a musician, she's kept her fan base loyal by remaining at least as loyal in return.