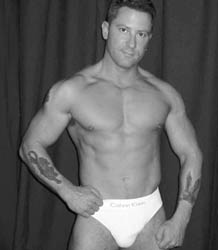 Anti-climax: Jim Slade
 When a play has the title Making Porn, and top billing goes to gay porn stars Chris Steele and Jim Slade, you don't exactly go into the theatre expecting high art. And rest assured, that's exactly what Making Porn does not deliver.
But oddly, the show — making a second visit to Washington since its '95 Chicago premiere — also doesn't titillate as its "Porn Stars Live!"-style marketing suggests. Ronnie Larsen's script ventures instead into the realm of middlebrow romantic "dramedy" — more like a very special episode of Will & Grace with simulated sex acts and an ass-shaving sequence thrown in for color.
The novelty of Making Porn is seeing porn stars do on stage what you generally don't see them do on video: handle dialogue and situations that have nothing to do with getting you to the next money shot.
This isn't necessarily a good thing.
Blue Blake, as the play's jaded, aging porn actor Ray making a comeback in early 1980s San Francisco, was an absolute comedic delight at last Saturday's press night — all bright-eyed, British-accented, broad drollery that would make him at home in any number of theatrical works. Too bad you can't see Blake do the role here any longer. Turns out he was engaged for only the first week of Making Porn's run. The other celebrity draw, Slade, isn't nearly so deft as Jack, the supposedly straight actor who turns to gay porn when no legitimate gigs pan out, and I have no idea what Chris Steele will contribute now that he's replaced Blake as Ray.
As out-of-his-element as Slade may be, his performance is essentially a wash. He does possess a natural charisma that shines through his more stilted dramatic moments, and he's always easy on the eyes. Better still, he's surrounded by some lively non-porn talent to pick up the acting slack.
Vanessa Vaughn is a hoot as Linda, Jack's wife who is oblivious to his ventures in the porn industry until he's in too deep. Though not particularly well-fleshed-out prior to the revelation of Jack's porn work — Larsen's characterizations show more promise than skill — Linda becomes a riotous, postmodern Mama Rose in Vaughn's hands as she overcomes her initial repulsion to Jack's seedy pursuits and recognizes the opportunity to make big bucks off of his career.
The role of Ricky, an uninhibited gay college student who wants to do porn for the fun of it, is handled with joyous abandon by the charming Finn Bryant. Like Vaughn, Bryant makes his character stronger and more engaging than Larsen has written it, and the production is considerably better for the effort. Ricky's love interest, Jamie, is adequately played by Rob Miller, who's sexy and likable, but a bit muted in comparison to the more rip-roaring histrionics around him. He's especially out-of-sync with Joe Bailey as Arthur, the conniving porn producer and cruel boyfriend from whom Jamie must disentangle. But that's really the fault of Bailey, who, despite a fine sense of comic timing, shrilly overplays Arthur to distraction.
Everyone's efforts are for all-but-naught, though, when Larsen lets the dramatic structure unravel in a disproportionately brief second act. It's more of an epilogue, really, as it leaps through time to gloss over a character's death and the gay porn industry's reaction to the AIDS crisis. Making Porn ultimately amounts, then, to a whole lotta build-up yielding little payoff — and too little satisfaction.
Through October 13th at Source Theatre, 1835 14th Street NW. Tickets are $25 to $35. Call 866-468-3399.