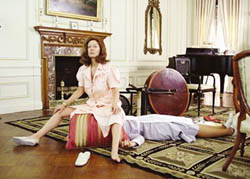 Maid service: Sarandon.
Igby Slocumb is a rebel with a cause.
At 17, Igby is more than a handful, foul-mouthed and ill-behaved, the kind of kid who can't be contained by the multitude of private schools and military academies he's attended (and been expelled from) over the years. Much of Igby's rebellion is intended as a direct strike at his overbearing mother, Mimi, a Washington, D.C. socialite whose husband underwent a mental breakdown seven years ago. But Igby is also trying to flee a system that he sees as life-draining, and in the strange and wonderful Igby Goes Down, he struggles against an increasingly dark tide to free himself of the predetermined constraints awaiting him in adulthood.
Igby Goes Down comes out of the blue, as does its first-time director Burr Steers, and strikes more than just one chord or two — it plays a symphony. It's as uncommon a coming-of-age film as you can get, brimming with acerbic wit and propelled by unexpected emotional resonance. It carries us along with Igby for a sometimes jolting ride through sexual awareness, romantic disappointment, and the harsh realities of power, abuse and drug addiction.
The movie's crucial action takes place in Manhattan after Igby goes on the lam from his latest military school, taking refuge in a loft that his "obscenely rich" godfather uses to house his current mistress, a young, heroin-addicted dancer. Igby experiences his first feelings of love, as well as the realities of rejection, and eventually winds up homeless, working as a drug courier for a bisexual performance artist. Despite the temptations, Igby never uses anything harder than pot and he keeps his sexual preferences on a soundly hetero track.
Unlike Tadpole, which dealt with somewhat similar issues in a bland, borderline pathetic way, Igby Goes Down is rich and rewarding, a literate, engaging story of a life heading toward disarray and possible greatness. And that's thanks to Kieran Culkin's spectacular performance in the title role. Culkin resembles a young Robert Downey Jr., but is in fact the younger brother of former child (non-)actor Macaulay and the older brother of Rory (who appears in Igby in flashback as a younger, impressionable version of the central character). Kieran's performance is a swirl of barely-repressed rage and general disinterest. He is every teenager. And he invests just as much in the dramatic scenes as he does in those calling for a crackling dry comedy. "You call your mother Mimi?" someone asks at one point. "Heinous one was a bit cumbersome," Igby replies without missing a beat, "and Medea was already taken." Culkin succeeds in making Igby a sympathetic character — not an easy task, given Igby's generally hateful demeanor. Still, almost no one in the film is pleasant — they're all self-absorbed louses with their own agendas. The movie's only pure soul is Igby's father, played with unsentimental understatement by Bill Pullman.
As Igby's mother, Susan Sarandon creates a memorable, embittered character whose life is sustained by alcohol and prescription drugs. She's as brutal to Igby as he is to her — though he remains impervious to her guilt. The perfect cast includes Ryan Phillippe as Igby's snotty older brother Ollie, Claire Danes as Igby's love interest (whom Ollie handily swipes), and the most idiosyncratic actor of our time, Jeff Goldblum, as Igby's philandering and seemingly sympathetic godfather. Amanda Peet, as the dancer whose life takes a downturn after an overdose, and Jared Harris, as the drug-dealing artist lend the movie its New York posh-grime.
Most of today's movies gravitate toward a soft-milky center. Igby Goes Down races to the edge and jumps off. It's all the better for its furious — and furiously funny — downward plummet.