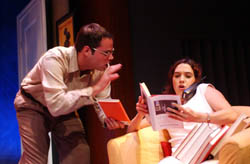 Two on the Twelfth: Sutton and Twyford
(Photo by Stan Barouh )
Has enough time passed since the horror of September 11 that the terrorists' New York City target — the World Trade Center — is safe territory for fictional exploration? Playwright Craig Wright clearly thinks so.
I, however, am not nearly so sure.
Wright's Recent Tragic Events, receiving its world premiere production by Woolly Mammoth Theatre Company, is ultimately about the tension between how much control — if any — we have over the course of our lives, and what's left up to the cosmic forces of destiny. Wright examines such philosophical matters by making up the story of Wendy, a New Yorker unaccounted for the day after September 11, and the people in her life who become unglued in the process of tracking her down.
As far as sheer inventiveness goes, Wright's narrative skills are in fine working condition. Far-fetched circumstances connect Wendy to Andrew (Eric Sutton) and Waverly (Holly Twyford), thirty-something singles together on a blind date in Minneapolis on September 12, 2001. Still, the intricacies of the tale are perfectly believable, and the story is intriguing as far as nonexistent people impacted by September 11 go. Therein lies the problem.
Today, so close to the first anniversary of September 11, while so many stories of real lives lost remain untold, I simply couldn't care less about the play's characters. That's not to say Twyford doesn't give a fine performance, as usual. That's not to say Sutton isn't on-target with his subtle portrayal of Andrew's hesitance and loneliness, or that director Michael John Garcés doesn't lend a nicely steadying hand when the playwright throws in overly precious tactics for tearing down the "fourth wall" between actors and audience.
It's been recently proven on stage by The Laramie Project that truth is not only stranger than fiction, it's exceedingly important to explore in times of national crisis. I just wasn't able to make the emotional investment in the imaginary realm of Recent Tragic Events that it demands to fully succeed. Are you?
Through Sept. 29th at the DCJCC Goldman Theater, 1529 16th St. NW. Tickets are $21 to $34. Call 202-393-3939. Visit www.woollymammoth.net.
---
Take one look at Walt Spangler's surreal, gravity-defying set for The Winter's Tale at The Shakespeare Theatre, and no doubt remains that director Michael Kahn intends to take you on the most fantastical of rides through one of Shakespeare's most fantastical tales. But with hardly a non-precarious perch to be seen on stage, it's also clear — intentionally or not — that this isn't the most solid ground Shakespeare has given either actors or audience to stand on.
The tragi-comedy is anchored by King Leontes of Sicilia (Philip Goodwin), who suspects for no real reason that his pregnant wife Hermione (Lise Bruneau in a nicely nuanced turn) is having an affair with his visiting boyhood friend, King Polixenes of Bohemia (Brent Harris). Goodwin and Kahn make a valiant effort to cast Leontes in a sympathetic light, more the victim of temporary insanity as he imprisons Hermione and orders her newborn abandoned in the wilderness, only to turn remorseful immediately after the deed is done.
Perhaps, though, that isn't the best tactic. What if this Leontes was a flamboyantly tyrannical ass instead of the brooding Sturm und Drang Romantic that Goodwin's performance, along with Catherine Zuber's gorgeous costuming, suggests? It could also better complement the play's wrenching shift, across time and temperament, to the comic pastoral realms of Bohemia, where the Old Shepherd (David Sabin) has raised Perdita (Mireille Enos) as his daughter after finding her as an infant alone in the wilderness sixteen years earlier.
Sabin and Patrick Ellison Shea, as the Young Shepherd, are delightfully silly as boisterous, unrefined rural folk, though their lightheartedness makes Enos's reserved, distant Perdita a bit of a puzzle. Slightly confounding as well are the ensuing plot twists that transport everyone to Sicilia for Leontes's redemption. Still, The Winter's Tale fascinates in spite of its flaws — more Shakespeare's than The Shakespeare Theatre's — and makes a worthwhile destination for an adventurous audience.
Through Oct. 20th at The Shakespeare Theatre, 450 7th St. NW. Tickets are $16 to $66. Call 202-547-1122. Visit www.shakespearetheatre.org.
---
Washington Shakespeare Company's new season is off to an esoteric start with Jean Genet's The Maids, an intense examination of domestic subjugation that begets madness and violence. For thematic reasons I can't decipher, Genet intended for the play's three female characters to be cast with male actors. This production, directed by Jose Carrasquillo (Blood Wedding at WSC), features Christopher Henley and Jeffrey Johnson in confidently stylized portrayals of sisters in service to a demanding mistress (Karl Miller), seen briefly but memorably. None of it may scream, "That's entertainment!" but it's certainly a competent effort if Genet is your cup of tea.
Through Sept. 22nd at Clark St. Playhouse, 601 S. Clark St. in Crystal City. Tickets are $15. Call 703-418-4808. Visit www.shakespearetheatre.org.