Sunday, Oct. 27, 6 p.m.
Lincoln Theatre, $10



The closing night films for Reel Affirmations tend to be powerful dramatic affairs, frequently offering a richness missing from the opening night film. That's only partly true of this year's closer, A Woman's A Helluva Thing, which is certainly better than Leaving Metropolis, but only slightly.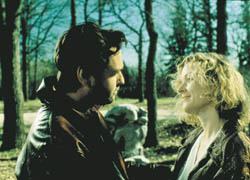 A Woman's Helluva Thing
The problem is not the acting, which is above first-rate, with stunning performances by Angus Macfadyen as Houston Blackett, the brash, sexist publisher of a Playboy-like magazine and Penelope Ann Miller as Zane, a former girlfriend who, it turns out, loved and lived with Houston's recently deceased mother. The problem is the narrative, which is so obvious it might as well be a freight train on a collision course with the audience. The other problem is Karen Lee Hopkins' direction. It doesn't need to race along at a hare's pace, but could move a little faster than a tortoise.
That said, there are charms in this story of a man who comes to terms with his own hedonism and learns to be a better, more sensitive heterosexual. Be forewarned, however: there is little in the way of actual lesbian content in the film — in fact, Zane's bi-sexuality exists only as a springboard for pitting her against Houston in a battle royale for the Blackett family ranch. The movie has its oddities — including a scene in which Houston and Zane sing "Moon River" to a bunch of wild pigs, and Ann Margret (as Houston's scheming stepmother), who looks as though she's been stretched from here to eternity.
After all is said and done, however, A Woman's A Helluva Thing doesn't leave you with much of anything. — RS