[CRITIC'S PICK]
Sunday, Oct. 20, 3 p.m.
Lincoln Theatre, $9





Simon & I (




) chronicles the lives of two South African gay civil rights activists, Simon Nkoli and filmmaker Bev Ditsie. Ditsie's narration, interviews, and archival footage reveals how each became involved in the struggle for gay and lesbian rights, as well as showing the struggles of their politically charged friendship.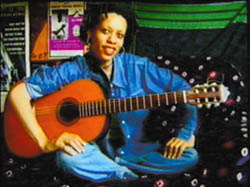 Simon & I
While the film is a tribute to Nkoli and his significant accomplishments, Ditsie charts the history of the gay rights movement in South Africa, against the backdrop of the AIDS epidemic, which ultimately claimed Nkoli's life in 1998. A video diary of sorts, Simon & I is an intimate portrayal of the struggles South African gays have to face to be open in their country and what these two activists did to show their government that gays deserve every inalienable right as their straight counterparts.
On the flip side, the provocative Surrender (





) shows the bitter reality that most South Africans face when they come out in a religious home. Celine Gilbert makes her directing debut with the story of Amri, a Zanzibar teenager who craves independence and Moshua, the hot, built fisherman he sees daily. But his father has other plans for young Amri as he seeks a bride for his son and forces him into a loveless marriage.
Surrender reveals what the harsh reality of strict religion and culture can do to rip away one's independence and freedom, let alone accepting an alternative lifestyle. In the end, Amri is able to overcome his father's orders and live the life he always dreamed. An outstanding film. — Kara Fox