"It was the beginning of a new era, " says Frank Yurrita, recalling the first Art for Life art auction held in 1994. Spearheaded by Whitman-Walker Clinic board member Jay Haddock, the event was launched to support and expand the clinic's HIV/AIDS services geared toward the Latino community, resulting in the creation of the Office of Latino Services, for which Yurrita has served as director since its inception.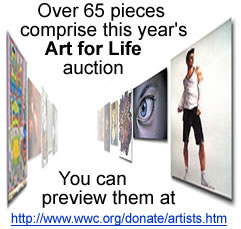 But the sense of something new wasn't just about the rising profile of Latino services at the clinic, Yurrita explains. In a city where arts-driven, glamorous fundraisers are virtually everyday occurrences, the art auction, marking its ninth anniversary with its 2002 installment on Wednesday, October 30, carried a special significance for the members of the Latino community — artists, volunteers, attendees — involved in its creation. "It was something we could be so proud of, " the Central American-born Yurrita says, "that an event of such elegance was being held for Latinos. It changed the perception of the Latino community from that of just asking for assistance to participation in addressing the problem. "
And the problem — a disproportionate number of HIV/AIDS cases in a Latino community still struggling with barriers to health care access, as well as Hispanic cultural attitudes that discourage discussion and education about HIV/AIDS — is one that necessitates specialized Latino services at Whitman-Walker and annual Art for Life events to support those services.
But why art?
Why have paintings, sculptures and photographs donated by artists — numbering less than twenty in 1994, and upward of seventy for this year's event — remained such a powerful uniting force for Latinos and their allies concerned about HIV/AIDS in the Latino community?
"Art transcends boundaries, " says artist Hector Torres. "It's a universal language for an issue where language barriers are still one of the primary obstacles faced. " Torres, involved in Art for Life both as an artist and organizer since the beginning, alongside his partner Haddock, has thought at times of cutting back his involvement, as the time demands have grown with the event's size and popularity. But Torres has lost many friends, and two of his cousins in his native Puerto Rico, to the disease — personal losses that make it all but impossible to stop now.
"My contribution may be small, " adds Torres, "but it is significant. There is no greater reward than to say I have done something. "
Haddock, who currently serves as chairperson for Art for Life, knows that contributions from artists such as Torres are significant. The value of works donated for the auction since its inception approaches $400,000, Haddock says. And the funds raised in the lively bidding "wars " each year for those works total $671,000 to date, including $91,000 raised at last year's event alone. Haddock's personal goal is to see $1 million raised by the end of the auction's tenth year in 2003 — a feat that won't be easy to achieve, but one that's certainly not out of the question.
Art for Life initially tapped into the often under-recognized talents of Latino artists, both gay and straight, although it now reflects a truly international mix of artists who, regardless of ethnicity, feel strongly about Whitman-Walker's commitment to addressing the needs of the Latino community.
Some, such as local Latino restaurateur Jorge Zamorano, whose Starfish Café and Banana Café display many of his paintings, don't pursue art as a full-time profession. In fact, Zamorano, a nine-year Art for Life artist whose 2001 painting sold for a record amount, has created only one piece of art in the past year. Not surprisingly, the painting was his contribution to this year's auction, completed during Zamorano's only vacation, taken explicitly for the purpose of creating a piece for Art for Life.
"That's how much the event means to me, " Zamorano says, adding with a laugh, "It's also the only time I ever put a jacket on. "
Like most of the seventy pieces donated for this year's auction, Zamorano's "Pajaritos Azules (Blue Little Birds)" wasn't necessarily created with a specific issue in mind. "When I paint, " Zamorano explains, "whatever comes out, comes out. I let people judge what it means to them. " Local Latino artist Aurelio Grisanty echoes Zamarano's sentiments, choosing to focus on color and feelings in nature, and images from different cultures, such as the Japanese flowers prominent his mixed media creation "Jardin. "
Still, some pieces, such as local Anglo-American photographer Michael Wise's "Golden Passion, " are tied thematically to HIV/AIDS. Wise, a third-year "Art for Life " artist whose 2001 donation earned the highest photography bid, captured the dramatic image of a Philadelphia train station sculpture of an angel carrying a man to heaven in hopes of comforting those in the Latino community who've lost loved ones to AIDS.
Wise, like most Art for Life artists, is approached to donate work for various fundraising purposes more times than he, as a full-time creative professional, can accommodate. But invitations to contribute to Art for Life have yet to be declined. "I can see the results, " Wise says, "so I know it's for a good cause. "
The ninth annual Art for Life Art Auction will be held from 6 to 10 p.m. on Wednesday, October 30, at the Organization of American States, 17th Street and Constitution Avenue NW. Tickets are $50. Call 202-797-3529. Visit www.wwc.org.