Wednesday, Oct. 23, 9 p.m.
JCC Theatre, $9


When someone makes an effort to write, produce, and direct their own movie, I tend to assume they feel passionately about the subject. Yet Steven Woodcock — writer, producer, and director of Between Two Women — makes sure every passionate, or conflicted, or even potentially dangerous moment is sublimated almost completely, and never released. It goes beyond your typically reserved British drama. Even the would-be climactic moment when Kathy and Ellie, two women in 1950s industrial England, finally succumb to their feelings for each other closes with them walking arm in arm down a quiet street. It's not that there's a lot else going on, either.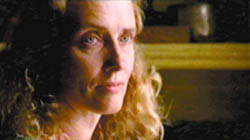 Between Two Women
All in all, the most evocative, and most dangerous, moment in the film happens when a young boy faces into a dark train tunnel and defiantly tosses stones into the darkness, yelling against the onset of a distant train. I was certain the drama was about to take a turn for the worse. However, as in all other instances of potential violence or conflict in the film, the director turns away at the last moment, averting by huge margins any chance of actual contact with the real emotions or actions underlying every calm, reserved, quietly desperate moment.
The most intense moment of the film, and the most intent moment of contact between Ellie and Kathy is a single look held overlong across the space of a bedroom. Even the musical score is hypnotic and dreamy, without catching any rough edges or moving anyplace new. The fine acting of Barbara Marten and Andrina Carroll as Ellie and Kathy, ably supported by Victor Woodcock as Ellie' son and Andrew Dunn as Ellie's husband, demonstrate restrained performances well adapted to a very subtly emotional story, but even this is not enough to give Between Two Women the weight it deserves. Ultimately, clasped hands, long looks, and desperately repetitive shots of trains in motion are asked to stand in for too much action and too much character development. — NL