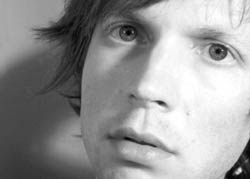 Beck
When Beck claimed to be a loser in 1994, few people actually bought it. Even those who bought it didn't really buy it. They, like Beck, were just trendspotting the irony craze.
Now the irony fad is waning and Beck, always edgy, is absolutely positive that he is, indeed, a loser. What's more, he's determined to convince us all that he's got it right this time. No more funked out Mellow Gold or spastic Midnight Vultures. Beck is officially, totally lost.
Sea Change (Geffen) is Beck come crashing to earth, reportedly a postmortem to an ended relationship. It sounds it, though not in an angry or resentful way — more like simple resignation with a touch of self-pity. It's Beck with the blues, which is nothing like B.B. King with the blues. This is white boy blues. Beck has always sung ennui-stricken tunes glossed over with goofball antics. Now the goofball is gone and he's just plain sad.
Problem is, Beck's gloom, while certainly genuine, comes across as a collage of sad songs sung before. The lyrics of Sea Change degenerate into tired cliché, and though they may accurately describe his feelings, Beck's first responsibility is to offer his listener — who's shelled 16-plus bucks for an album — something new. It's not that I don't believe him when he sings "These days I hardly get by." I just don't want to hear it stated so blandly.
I know Beck is capable of more than this. In fact, there are flashes of potential on this very disc. Take "Paper Tiger," a low-key creeper that makes itself memorable with a sharp, soulful string arrangement that pops in and out of the song several times. Beck uses the orchestra in the same way Elton John used the Melbourne Symphony — just backup, but central to the song. It transforms the track from pretty-but-generic to remarkable, something several of the others could use.
Mostly the tracks just fade into each other, one sparsely plucked heavy lament after another. "Side of the Road," closing out the album, finishes with a loose-ended sense of unfinished business. It might as well be metaphor for what the rest of this effort doesn't accomplish. Beck's steady baritone is captivating, but washed out by Tom Waits-style drip riffs. Beck is not Tom Waits. He's the man who used to engage in games of Twister with unlikely genres — right hand on Fatboy Slim, left foot on early '80s electro — and now he's just moping around.
It's inevitable that many will see this album as some sort of breakthrough for Beck. People will say that this is our first look at the artist without his veil of wacky antics and sarcasm to hide behind. But those antics are the real Beck, and this album feels less sincere than any previous, despite its earnest tone. The self-deprecating introversion seems synthetic, cooked up to sell records in a world of snipers and terrorists. Even if his sentiments are real, they're coming across as ready-made for a minor-key national climate.