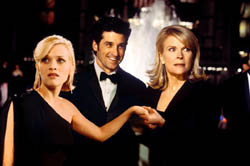 The blahs and the greys: Witherspoon, Dempsey and Bergen
You'd think the producers of a movie named after one of Lynyrd Skynyrd's most popular songs would have the decency to purchase the rights to the original recording for the soundtrack. Instead, they employed Canadian crooner Jewel and a little-known band known as Cornbread to perform covers — lousy covers at that — of Skynyrd's 1974 hit, "Sweet Home Alabama."
Then again, it's fitting, seeing as Sweet Home Alabama is a lousy film. Lousy through and through.
A plodding, uninvolving romantic comedy, the movie is the latest to hawk Reese Witherspoon as Hollywood's shining star of the moment. Even Witherspoon's dazzling smile and indefatigable sunny demeanor can't hoist this fable about remaining true to one's self above the level of ripe manure. The movie, directed by Andy Tennant (Ever After) and written by first-timer C. Jay Cox, appears to be infatuated with the clichés it triple-wraps itself in. It's nothing new that, in the movies, Southerners are presented as slow-witted eccentrics, with an abundance of warmth and hospitality and an extraordinary knack for canning fruit and various portions of the pig that, in a reasonable world, ought to remain uneaten. By contrast, Northerners are frigid, socially superior snobs concerned only with how others perceive them. Sweet Home Alabama does nothing to dispel these clichés, and in some ways, expounds upon them.
Truth is, we come to a movie like Sweet Home Alabama not for a lesson in social studies, but to be swept away by a little light romance and humor. But the film offers so little in the way of comedy, and even less in the way of romantic chemistry between Witherspoon's Melanie Smoot and her Southern man Jake (blander-than-baby food Josh Lucas), that the whole affair thuds to the ground like a prematurely spent cannonball.
Let's get to the story: Melanie left her hometown of Pigeon Creek, Alabama seven years ago to make something of herself in New York. She's on the cusp of national success as a fashion designer when her paramour du jour, Andrew (Patrick Dempsey), the politically ambitious son of the city's Mayor (Candice Bergen, in royal bitch mode), proposes — at Tiffany's, no less, which he arranged to be open off-hours for the occasion. "Pick one," he says, gesturing toward the cases of diamond engagement rings.
Melanie's no fool. She accepts and promptly hightails it down to Pigeon Creek to tidy up a messy obstacle in her path toward happiness — namely, divorcing Jake, a childhood sweetheart who she married out of high school and then left behind. Jake, however, is bitter over losing Melanie and refuses to sign the papers. After a few bouts in the sparring ring (which occupy about half the movie's running time), Melanie and Jack undo the knot, freeing her to marry the new man of her dreams. If Sweet Home Alabama ended there, it might warrant the term tolerable. But it goes the extra moron's mile into idiot land as Melanie finds that she might love Jake after all. And yet still, there's Andrew.
"I'm happy in New York," Melanie tells Jake, as the couple sit together one evening in a coon dog cemetery (complete with tombstones enshrined with little stone dogs). "Then I come down here and it fits, too."
"Who says it has to be one or the other? You can have roots and wings," replies Jake, suddenly profound.
The movie concludes on a "When Worlds Collide" note, as Melanie's Manhattan clique meets up with her deep-fried clan. The climax is played out with such an absurd lack of humor, one wonders if screenwriter Cox had his funnybone removed in a back-alley game of Operation.
Die-hard Witherspoon fans will no doubt adore Reese to pieces, but I found her tiresome, her love-is-all-around shtick wilted. (Personally, I prefer the crafty, cunning Witherspoon of Election.) She's supported by a cast that includes Mary Kay Place, all radiant sunshine as Melanie's sweet, sensible mother, Fred Ward as her Civil War-obsessed father, and loud and saucy Jean Smart as Jake's loud and saucy momma.
Ethan Embry plays Melanie's best friend Billy Ray who, it just so happens, is gay. During a drunken binge, Melanie outs her friend in front of the town. But this being a warm and accepting region of the South, the townsfolk immediately accept Billy Ray for the homosexual that he is, no questions asked. The fact that the revelation about Billy Ray wouldn't cause his good ol' boy pals to raise an eyebrow shows just how far into fantasyland Sweet Home Alabama flings itself.
If the South's ever gonna rise again, movies like Sweet Home Alabama sure ain't gonna help it none.