[CRITIC'S PICK]
Sunday, Oct. 20, 6 p.m.
JCC Theatre, $9




Deep in the heart of Texas, something silly has been going on. Well, maybe not the heart, but it's certainly deep in something. The Lone Star state, you see, has outlawed dildos. These days in the more liberal state capital of Austin, you can't buy a dildo to pleasure yourself or someone else. You can, however, buy an educational model if you have a "friend who needs to be educated" about how to, say, put on a condom . Texas is suddenly filled with safer sex educators.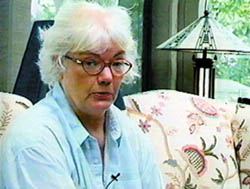 Molly Ivins
Just don't own more than six of them, or you may be considered a felon.
Dildo Diaries is a tongue-in-cheek investigation of the Texas legislature's obsession with "dipshit stuff like this," as political columnist Molly Ivins puts it. Listening to Ivins take potshots at the three-ring, backwoods hick circus that is the Texas state legislature provide some of the most amusing parts of Diaries.
As filmmakers Laura Barton and Judy Wilder visit sex shops in Austin, the perverse nature of the Texas law becomes progressively funnier and senseless. The above mentioned "educational models" must look like a penis. "Personal massagers," on the other hand, cannot. The Texas dildo dragnet somehow managed to miss butt plugs.
"You can buy whatever you like to go there," a store clerk cheerfully explains.
Barton and Wilder also dive into the Texas legislature's contentious 1993 debate to recriminalize homosexual sodomy — footage from which makes the goofiest debates in the U.S. Congress look like a Mensa meeting. The scary thing is, Texas isn't the only state legislature filled with agenda-toting goofballs of all political stripes. It's just that they do things bigger (and louder) in Texas.
Barton and Wilder bounce around the country in search of dildo information, visiting sex toy wholesalers, a latex modeling facility, and a sex toy museum in Minnesota. Things never get too far off track, even when Annie Sprinkle pops up to babble about Victorian morals as if that British era had just ended last Wednesday.
Whether you're a dildo neophyte or a committed connoisseur, you'll find plenty to learn and laugh about with Dildo Diaries. — SB