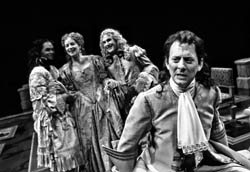 High Society: Cofield, Williamson, Redmond and Emerson
(Photo by Scott Suchman)
Control and confidence are the hallmarks of Arena Stage's new production of The Misanthrope. Without them, the ultra-precious conventions of Molière's 17th-century French comedy could easily spell disaster on the contemporary stage. But with them, Arena soars to blissful heights of stylization that are a joy to behold.
Working with new text by prominent British translator Ranjit Bolt, director Penny Metropulos lets not even the tiniest detail of human mannerisms escape her firm grasp. Every time an actor glances across the stage, or raises a teacup, or sets down a tray, it's infused with precision and purpose that quickly cast a magical spell on the proceedings.
The action unfolds in the house of Célimène (Nance Williamson), a Parisian high society figure who has entranced Alceste (Michael Emerson), the misanthrope of the play's title. Alceste has grown disgusted with the hypocrisy and airs that surround him, and even though Célimène's is guilty of the behavior he derides, he loves her nonetheless.
Unlike his cohort Philinte (John Leonard Thompson), who is content with tolerating their social conventions, Alceste vows to speak openly against those he views as ridiculous. And boy, does he have some major targets in Oronte (Patrick Husted), Clitandre (Lawrence Redmond) and Acaste (Carl J. Cofield), men who the flirtatious Célimène strings along despite her declaration of devotion to Alceste.
The suitors are caricatures of the highest order, and Husted, Redmond and Cofield play them to the hysterical hilt. Husted's Oronte is beyond pompous, and his haltingly affected delivery in the scene where Oronte insists on an honest reaction from Alceste to a horrid poem he's written (when only a dishonest reaction — a compliment — will do) is priceless. Redmond brings a perverse giddiness to the aging fashionista Clitandre, and Cofield is right on-target with his preening, cock-of-the-walk Acaste. 
Metropulos and Emerson put a more modern edge on the comic portrayal of Alceste, making him a dervish of exaggerated exasperation and rubber-faced expressions that recalls, of all things, Don Knotts at his Andy Griffith Show-era height of prowess. It's funny stuff that anchors the play perfectly.
Williamson positively glows in her seductively sensuous take on Célimène, and she puts just the right bittersweet spin on Célimène's downfall when both her romantic and social pursuits fall apart. Williamson's finest moments, though, come when Célimène is pitted against her social rival Arsinoë, remarkably played by the consistently impressive Naomi Jacobson. The pair trade pleasantly phrased insults as if throwing daggers, but Arsinoë, rendered so flawlessly as a sex-starved shrew by Jacobson, is no match for Williamson's radiant Célimène.
The exceptionally strong performances and direction are stunningly framed with sumptuous costumes by Deborah M. Dryden and setting by William Bloodgood. As a matter of fact, Metropulos, Dryden and Bloodgood were all "borrowed" from the Oregon Shakespeare Festival to make their Arena Stage debuts with The Misanthrope, and I'd say they're all more than welcome to share their skills with Washington audiences again anytime.
Through November 3rd in the Fichandler at Arena Stage, 1101 6th Street SW. Tickets are $10 to $57. Call 202-488-3300. Visit www.arenastage.org.