GUARDIAN OF THE FRONTIER
Friday, Oct. 25, 9 p.m
.JCC Theatre, $9



Maja Weiss delivers a disturbing allegorical treatment of man's inhumanity to (wo)man in her feature film debut. Like Deliverance, Guardian sends a few buddies (this time three women) down a river in search of a little fun, and maybe to find themselves. Instead of a summer vacation, the women find themselves thrown mercilessly into the dangers of the wilderness.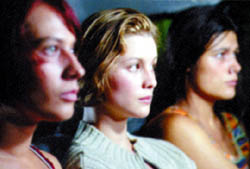 Guardian of the Frontier
Unlike Deliverance, this trip takes place along the lush Kolpa River dividing former sister states Slovenia and Croatia. The locale is critical to the story. It helps create the atmosphere of a superficially sophisticated, civilized world overlaying the shifting tectonics of a society uncertain about its own borders and its ability to succeed as a state in the midst of regional conflict and flexing social roles. The three female protagonists must confront the semi-dormant violence (political, social, and otherwise) of the society around them, as well as their own complicity in that violence, played out within their relationships with one another.
There's a lot that can happen on this trip, and Weiss makes sure you anticipate every possible thing that might happen as well as what does actually happen. Every scene fairly drips with anticipation and ever-increasing menace. While Weiss busily showcases the enticing countryside surrounding the Kolpa River, her secondary characters are busy preparing to engulf the three anti-heroines in an increasingly tightening web of anger, threats, and violence. Weiss makes sure we see how big this story really is by tying in a multitude of culturally resonant symbols. Even the Brothers Grimm would be proud. Just like many Grimm characters, our anti-heroines make their way through a forest or two, along the way meeting up with projections of their childhood, their sexuality, their position as captives of an essentially misogynist society just beginning to become aware of how lost in the woods they really are.
And yet, there's a lighter side to all this as well, for example when one denizen of the forest quotes A Midsummer Night's Dream, suggesting all the danger and topsyu-turviness of the trip might one day soon disappear with the waking of the sun. Still, the suggestion of a more benign kind of fairy tale in this instance leaves the viewer more disturbed than if Weiss had simply taken a straight shot at women in war, rape, and politics. It's a disturbance worth momentarily giving yourself to, but try not to wade in too deep. You might not make it back to the border. — NL