Thursday, Oct. 17, 7 p.m.
Lincoln Theatre, $15



Brad Fraser is one of Canada's premiere playwrights. He is not, it so happens, one of its premiere filmmakers.
Leaving Metropolis is Fraser's adaptation of his drama Poor Super Man, which several years ago shocked Arlington's Signature Theatre audiences with its frank and explicit depiction of gay sexuality. The narrative path remains the same: David, a noted gay Canadian artist becomes intimately involved with Matt, a married straight man. When David and Matt's affair is revealed (by a shrill, self-righteous friend of David's), Matt's wife goes ballistic. "You're a fag!" she cries, and throws him out. What might have turned into an interested exploration of sexuality is instead reduced to the level of dishtowel melodrama.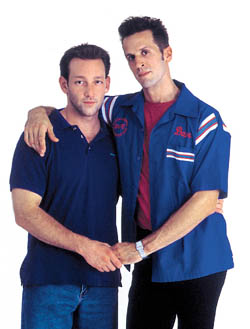 Leaving Metropolis
The dialogue is ripped almost word-for-word from the play's pages, giving the movie's cadences of speech an unnatural theatrical quality. People just don't talk like this — especially not rooted in the "reality" of film. And they certainly no longer engage in exchanges like "Love you!" "Mean it!" The movie feels like a throwback to the early '90s, a time most of us would rather not return to.
Oddly enough, the most engaging thing in Leaving Metropolis is a subplot in which David's best friend, Shannon, a wisecracking transgender, succumbs to the effects of AIDS. Thom Allison plays Shannon with compelling grit and an ample amount of pathos. His is the movie's shining performance, certainly better than the performances by the leaden Troy Ruptash as David and the only-slightly-less-leaden Vince Corazza as Matt. If both men spent as much time in acting class as they obviously spend at the gym, they might be at least half convincing in their next film outing.
For those of you who care about such things, the movie is sex drenched, almost to the point of soft-core porn. The pivotal gay anal sex scene was alarming and raw when depicted live on stage in Arlington. Here, it's couched in vividly colored lights, and is tastefully obscured by room dividers. Frankly, it comes off as a "Romantic Mood Setting Video Especially for Homosexual Men."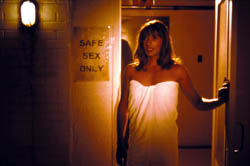 Leaving Metropolis
Leaving Metropolis is not Reel Affirmation's worst-ever opener, but it's a far cry from the best. It's a lugubrious, soundly mediocre downer that leaves all its characters sobbing uncontrollably by the film's end. All it leaves us, however, is wanting a nice stiff drink and some happy chatter at the post-film reception. — Randy Shulman