Wednesday, Oct. 23, 7 p.m.
Lincoln Theatre, $9

Let's say you're an affable, non-threatening, apparently straight actor with a waning career. You want to direct your first film, and, of course, you want the starring role for yourself. But the material needs to be edgy, with some real artistic cred. Wouldn't a gay-themed Broadway play by a Pulitzer Prize-winning writer fit the bill perfectly?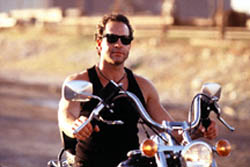 Guttenberg
Probably. Unless you're Steve Guttenberg and your choice is P.S. Your Cat Is Dead, in which case you're royally screwed.
The 1975 play by James Kirkwood, who co-wrote the book for the musical theatre milestone A Chorus Line and based P.S. Your Cat Is Dead on his 1972 novel and unproduced 1970 play of the same name, might work on the screen today as a period piece. That is, a cultural relic significant for its gay content, but nonetheless jarringly out-of-sync with a 21st-century sensibility.
It most definitely will not work if it's set in contemporary L.A., which is, unbelievably, exactly what Guttenberg has done to re-tell the story of Jimmie, an out-of-work actor of questionable talent whose life falls apart on New Year's Eve when his cat dies, his girlfriend dumps him, and his apartment is broken into for the third time. The burglar Eddie (Lombardo Boyar) is caught in the act, though, and Jimmie overpowers him and ties him up in the kitchen for an improvised dose — Ã  la Extremities — of vigilante justice.
Jimmie is genuinely unhinged, putting Eddie at real risk for harm, especially after Eddie is revealed as a "tinkerbell" and Jimmie calls in his gay-thug buddy Carmine (A.J. "Fame, ain't it a bitch?" Benza), whose penchant for something kinky called "figs and mice" will be served nicely by the bound burglar. But since this is supposedly a comedy, the tables turn before anything too nasty transpires, and Jimmie and Eddie, defying even a passing resemblance to emotional authenticity, become bosom buddies.
If the shallowly crafted Jimmie can come across as anything but unrealistic and revolting in 2002, you won't know it from Guttenberg's miserable, plodding performance. Boyar is a little easier to take, but no closer to reality in his character's choices, and it's bracingly clear that this film is a misguided mess that should have never progressed beyond the stage of really bad idea. — JP