Saturday, Oct. 19, 5 p.m.
Lincoln Theatre, $9




Two boys fresh out of high school leave their home behind to search for success in the outside world. Years later, one is a successful and renowned poet. The other, returned home to struggle with alcoholism and his inner demons.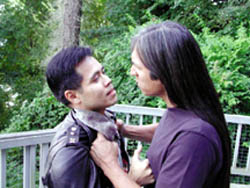 The Business of Fancydancing
It's a story that, in some of its elements, may seem familiar. But in Sherman Alexie's The Business of Fancydancing, the home that's left behind yet still exerts such a powerful pull is the Spokane Indian reservation in Washington. Alexie has made a name for himself in both literature (Tonto Fistfight in Heaven) and screenwriting (Smoke Signals), but this is his first time taking on the dual roles of writing and directing a film. As one might expect, the result is a mixed bag.
Watching Fancydancing is, in many ways, like watching a short story from a literary magazine, and shares that format's strengths (compact scenes that compel emotion through strong characters) and weaknesses (overwhelming the story by piling on too many literary techniques).
Alexie is, of course, tackling a huge range of issues in the course of a two-hour film: homosexuality, alcoholism, suicide, poverty, and all the other struggles of reservation life. Seymour Polatkin (Evan Adams), the poet who makes it off the reservation, is gay and partnered with a white man. His former friends at home believe he's sold out his heritage to gain fame — one of the title cards that occasionally pop on screen quotes a fictional Indian web site: "Seymour Polatkin is full of shit." Adams brings a quiet mixture of arrogance and pain to the role that brings the movie much of its power, but that power is too often lost amid the jumble of technique.
But there remain those moments of truth when the narrative, technique and characters all come together for a stunning emotional punch — moments that are all too rare and should not be missed. — SB