Sunday, Oct. 27, NOON
Lincoln Theatre, Free



The Laramie Project is one of those low-profile films that every big shot actor wants a piece of. It's controversial enough to make headlines but not enough to endanger an established career. It gets the hot HBO audience, but retains an artsy, rootsy, indie sort of feel. It's progressive and compassionate, deals with gay issues in a way that's acceptable to mainstream America, and is ripe for an Emmy. Accordingly, the cast is a veritable jukebox of triple-platinum actors.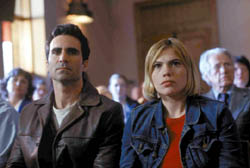 The Laramie Project
And that's a problem, because most of the film's characters don't have big enough personalities for an A-list star to disappear into. Most of the characters are simple, low-key Wyomians, not larger-than-life personas that can absorb a Steve Buscemi or a Camryn Manheim. I believe Janeane Garofalo is a chain-smoking bitch wreaking havoc at a high school reunion. I don't believe she's a quiet lesbian from Laramie.
Plotwise, however, the film is compelling, much more so than a straight-ahead story of the incident. Focusing on the documentarians' interactions with the townspeople gives it more depth than the townspeople would have provided themselves. The contrast between the out-of-town, liberal student filmmakers and the residents is stark but not overblown, and Laramie isn't pigeonholed as Hicktown, USA. It even draws your empathy as it's turned upside down by the glare of the media spotlight.
A few performances stand out, especially Dawson's Creek's Joshua Jackson, who plays the bartender who last saw Matthew Shepard alive with a convincing mix of emotion and detachment. Christina Ricci is modest yet powerful as Shepard's friend, Romaine Patterson.
The film has a clean, crisp HBO feel throughout, and a patent edginess about it. A slick, accessible look at Laramie that is clearly geared toward both straight and gay audiences. — WD