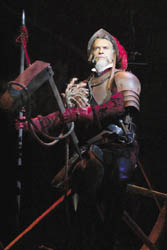 Dream on: Mitchell as Cervantes/Quixote
(Photo by Joan Marcus)
It's just wrong.
There's no better way to sum up the revival of Man of La Mancha currently gearing up for Broadway with a tryout at the National Theatre. Everything from top to bottom — casting, setting, direction — is way off the mark. Worse still, this production doesn't even know what mark it should be aiming for.
In the hands of British designer Paul Brown, Man of La Mancha is overwhelmed by a gargantuan evocation of industrial steelworks that has seemingly little to do with the Seville of 1594 where we're introduced to the poet Don Miguel de Cervantes (Brian Stokes Mitchell) as he's imprisoned under the Spanish Inquisition. Now, I have nothing against non-traditional design, but it would take a far different — and better — show than La Mancha to work in this staggering visual realm.
The oft-produced 1965 musical by Dale Wasserman, Mitch Leigh and Joe Darion is a flawed, stilted piece that succeeds — present company excluded — in spite of itself. There's charm and pluck in the simplicity and intimacy that carries you through the story of Don Quixote that Cervantes reenacts for his fellow prisoners as they await uncertain fates.
Big, satisfying moments, musically and dramatically, emerge from a small-scale theatrical place to reward and uplift the audience. This revival would have us believe, though, that every moment is a big moment — that even the weakest numbers ("We're Only Thinking of Him," "I Really Like Him") can command the same emotional and physical space of which only a handful of sequences ("The Impossible Dream," "Finale") are truly capable.
Of course, the design shares fault with the direction — by another Brit, Almeida Theatre veteran Jonathan Kent, undertaking his first musical in grandly disastrous fashion. Kent has utilized original staging by Albert Marre, but he's failed to locate and amplify an authentic emotional core, one that can fill this colossal stage environment and provide something other than rote feeling for the cast and audience to latch onto.
Do the stars — Mitchell, Mary Elizabeth Mastrantonio as Aldonza, and Ernie Sabella as Sancho — have any choice, then, but to falter? Leads, however talented, can only go as far in their characterizations as a truly engaged, effective director will allow them. But these three seem to have given up hope entirely and taken an every-man-for-himself approach in order to salvage limelight for themselves at any cost.
How else to explain why Mastrantonio's Aldonza is a Jersey-accented tough without a flicker of chemistry and connection with Mitchell's Cervantes until the last possible moment? Or why Mitchell is merely marking time between songs with a dull, doddering, droning Quixote who's no more than a stock character? Or why Sabella plods along like an Abbott-less Costello, relying solely on pre-set shtick whether it's funny or not?
Why, indeed, has this mess of a La Mancha made it this far off the drawing board? Brace yourself, Broadway. You've got a real dud headed your way.
Through Nov. 10 at the National Theatre, 1321 Pennsylvania Ave. NW. Tickets are $47.50 to $77.50. Call 800-447-7400. Visit www.nationaltheatre.org.
Headscratcher
Like most Americans, and Washingtonians, in particular, I find myself contemplating the reality of violent death these days far more than I'm comfortable with. So if a theatre piece is going to portray hyper-realistic, painful-to-watch scenes of graphic sex, torture and murder, the point of doing so needs to come across pretty damn loud and clear.
Alas, the latest effort from Cherry Red Productions, Thumbsucker, conveys no discernable point to its mere forty-five minutes devoted to the goings-on in a hotel room where the hunky Jack (Carlos Bustamante) has a three-way with Gwen (Judith Baicich) and Sam (Sarah Hochkeppel), scalping Sam in the process, then stabbing her to death. The sequence then repeats, as Jack does the same thing with Meg (Yasmin Tuazon) and Gwen, offing Gwen in the process, and once again with an unnamed woman (Rachyl Felty) and Meg in line for scalping and stabbing. That's it, folks.
Writer-director Ian Allen sprinkles a few cryptic lines about love and unresolved mother issues, delivered well enough by an attractive young cast. But I couldn't get past the gratuitous brutality — presented with a straightforward earnestness unlike the tongue-in-cheek subversiveness you usually get from Cherry Red — in order to feel anything other than repulsed when the play was over. And that's definitely not what I prefer to go to the theatre for.
Through Nov. 9 at the D.C. Arts Center, 2438 18th St. NW. Tickets are $15. Call 202-298-9077. Visit www.cherryredproductions.com.