Tuesday, Oct. 22, 9 p.m.
JCC Theatre, $9




Paula J. Durette's Nesting Season (



) starts off this segment of shorts with some cute animation and an interesting, calendar-driven model of lesbian dating chronologies. It's light fare, but entertaining. Stuck (





) gets down to business. Director Jamie Babbitt plays up a Bagdad Café meets Twilight Zone atmosphere in which a harangued partner runs into a piece of destiny on a desert road, and takes a hint to show her pushy partner the exit after 45 years of "bliss." It's a delightfully fresh look at one side of queer relationships. Kimberly Orr's good bye (


), on the other hand, takes the more oft-traveled road, scanning the milestones of a relationship in flashbacks as one ex walks through her soon-to-be-vacated home. It's clear from the timeline somewhat clumsily alluded to in the flashbacks that this is another relationship that went on about three years too long. Watching this short is a little like watching the soap opera episode behind a Melissa Etheridge song — without less interesting music.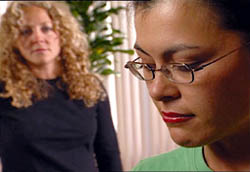 Goodbye
The Green Hour (




) takes us back to those somewhat desperate, but wonderful moments of discovery on the other end of relationships, when one is just coming out, and just starting something new with someone new. Nicole Kassel sets the stage with an almost morosely detailed picture of what's wrong with Joanne's (Florence Cabre-Andrews) life as a wife and mother. But there's little guessing what could be right in her life (except this is a gay film festival, folks) until Joanne chances to meet an enticing woman with no fears of sleeping with married women with kids. Photography by Victor Buhler and music by Christopher Bowen put the finishing touches on a very nice film.
Eva Saks's Family Values (



) documents an unexpected "family" business — crime scene restoration. That's right, maids who clean up after murders. And suicides. And bizarre home accidents. (Don't try this at home!) It's a macabre subject that invites a lot of odd humor on the part of Becky Della-Rodolfa and Donna Jaconi, but I guess that's to be expected, given the circumstances. And certainly it's a good sign that we can begin now to explore the more unique lives within our community, instead of watching the same old coming out stories over and over again. There's something to be said for macabre, after all.
Baywatch babe Alexandra Paul makes a surprise appearance in Breaking Up Really Sucks (




), which tops off this group of shorts with a completely tongue-in-cheek play on clichés of lesbian life and love. True love. The kind of love where you meet, have sex for a week and a half, and move in together, then drop day by day into lesbian bed death (LBD). — NL