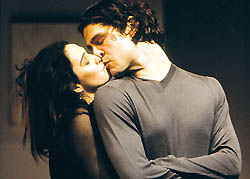 Love hurts: Twyford and Barrow
(Photo by Carol Pratt)
I think I've now seen the best stage production of 2002.
Of course, it'll take a few more weeks to know for sure, but I won't hold my breath that anything will emerge with more stunning theatrical force than the Studio Theatre's flawless mounting of Neil LaBute's The Shape of Things.
That said, I'm equally confident many theatre-goers will despise this play with as much fervor as I love it, and I doubt that there will be much of a middle ground. LaBute's reputation for incendiary gender politics — well-earned as the writer-director of the films In the Company of Men and Your Friends & Neighbors — is further enhanced by this scathing, enraging portrait of human cruelty exercised at the hands of Evelyn (Holly Twyford), an art student who takes on a most unusual subject for her graduate thesis at a liberal arts college in a conservative Midwestern town. And the climactic situation — perfectly believable in the context of the play — is still pretty outlandish, so you'll need to shift your willing suspension of disbelief into high gear.
I'll refrain from going into too much detail beyond that, because there's so much pleasure to be felt with the sheer sense of dread you develop early on as Evelyn romances the shy, geeky undergrad Adam (Scott Barrow) and they become entangled with a young, engaged student couple, Jenny (Margot White) and Phillip (Justin G. Krauss). "Something's not right," you think, and as more clues fall into place and it's all-but-apparent that these people aren't going to live happily ever after, it becomes, "Uh-oh. Just how bad is it gonna get?"
Bad. Real bad. But that's good. Because it isn't happening to you.
The actors, guided so ably by director Will Pomerantz and framed so beautifully by Debra Booth's sparse, evocative setting, create remarkably natural, personable characters. They also possess an unquestioning command of LaBute's efficient language, leading up to a razor-sharp dissection of contemporary social identity and artistic expression.
Does subjectivity, LaBute asks, excuse anything — no matter how reprehensible — as art? And when does art cross the line to become something beyond self-indulgence — something devastating and dangerous?
They're questions that have certainly lurked in the back of my mind, and I'm thrilled to see them pushed to the forefront of cultural dialogue in such an outstanding way.
Through Dec. 15 in the Studio's Milton Theatre, 14th and P Streets NW. Tickets are $30.25 to $44.25. Call 202-332-3300. Visit www.studiotheatre.org.
Much to See
Frothy fun awaits you at the Shakespeare Theatre in a gorgeous production of Much Ado About Nothing that sets Shakespeare's romantic comedy on a lavish country estate in 1920s England. Broadway musical star Karen Ziemba gets the plum role of Beatrice, the so-called "spinster" engaged in a "merry war" of words with Benedick (Dan Snook), the self-confirmed bachelor similarly disdainful of love and marriage.
Director Mark Lamos has honed in on a remarkably modern comic sensibility by envisioning the characters in the context of English society at play between world wars, and Ziemba and Snook make a radiant, delightful pair of romantic adversaries. They're surrounded by great performances, notably Katleen Early as a Hero so demure and heartrendingly devastated when her virtue is called into question; the dreamy Barrett Foa as a Claudio so rash to judge while in the throes of youthful passion; and Peter Rini as a winsome Don Pedro who saves his melancholy reaction to the romance he can orchestrate, but not experience first-hand, until the perfect final moment.
Michael Santo also puts a droll spin on Leonato, Beatrice's uncle and Hero's father, yet still emerges with fearsome rage when Hero appears to stray from a virtuous path. And Richard Ziman gets great comic mileage out of the language-slaughtering constable Dogberry. Supported with intricate, elegant costuming by Catherine Zuber, Much Ado About Nothing is as visually rapturous as it is comedically pleasing, making a true Shakespearean treat worth seeking out.
Through Jan. 5, 2003, at the Shakespeare Theatre, 450 7th St. NW. Tickets are $16 to $66. Call 202-547-1122. Visit www.shakespearetheatre.org.
Death Becomes Her
Paula Gruskiewicz delivers an amazing performance in Ariel Dorfman's Death and the Maiden at Theater J. As Paulina, a South American woman still reeling fifteen years after political imprisonment and state-sponsored torture, Gruskiewicz covers an astounding expanse of emotional and psychological territory, but never falters.
She's supported with solid, complex portrayals by John Lescault as Paulina's husband Gerardo, and Mitchell Hébert as Roberto, a doctor who helps Gerardo in a roadside emergency and is invited by Gerardo to his home. Upon Roberto's arrival, Paulina is certain she recognizes him as a doctor who supervised her torture sessions, so she takes him prisoner on the spot and tries him — with Gerardo's reluctant help — in an effort to exorcize her demons and find justice.
Philosophical argument, gripping human drama — Death and the Maiden succeeds equally on both levels, and it's a polished accomplishment for Theater J that you'd do well to experience.
Through Dec. 1 in the Goldman Theater at the DCJCC, 16th and Q Streets NW. Tickets are $15 to $34. Call 800-494-TIXS. Visit www.theaterj.org.