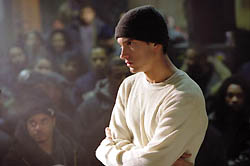 8 Mile High: Eminem
It's not easy for a pop sensation to cross over from the cozy confines of the recording studio to the vast enormity of the big screen without looking foolish, insufferably vain, or a little of both. Just look at what happened to Mariah Carey in Glitter, or Madonna, in just about any film she's shouldered (with the exception of Desperately Seeking Susan). But Eminem, it can now finally be argued, is smarter than the average pop star. For his first movie, the controversial rapper hooked up with Oscar-winning producer and hairstyle nightmare Brian Grazer (A Beautiful Mind) and director Curtis Hanson (L.A. Confidential), put much (but not all) of his vanity aside, and placed his trust in the filmmakers. The result, 8 Mile, is a film of such enormous power, potency and passion that, immediately after seeing it, you want to personally hand everyone involved an Oscar.
Chief to the film's success is the star's restrained, nuanced, and believable performance as Jimmy "Rabbit" Smith, Jr., a young man raised in a trailer park on within the boundaries of 8 Mile Road, the dividing line between the Detroit's urban rot and its affluent white suburbs. Rabbit is the self-designated leader of his crew, which includes his best friend and most ardent supporter Future (Mekhi Phifer, an engaging screen presence); the erudite DJ Iz (Eugene Byrd); the affable (and linebacker large) Sol George (Omar Benson Miller); and Cheddar Bob (Evan Jones), a dim bulb who serves as the gang's jester.
The group spends most of their time convincing Rabbit to engage in a rap "battle" against local heavyweights, The Free World at a small dive called The Shelter. In this real world, rapping is all about decimating your opponent with whatever knowledge you have about his (or her) life. Scandals, upbringing, the inability to afford new shoes are all fair game. But the rhyming insults must — I repeat, must — be clever and sharply honed. And they must drive the audience, who determines the winner by applause, into a veritable frenzy.
Future knows his friend has what it takes to get to the top, but Rabbit isn't so sure. He's a white boy trying to make it big and gain acceptance in a black man's territory (the movie is set in 1995), and he's understandably insecure. "Once they hear you," assures Future, " it won't matter what color you are."
Race isn't the film's primary issue, though it simmers in the background, providing steam to various conflicts. The film is about talent, the guts it takes to use it, the glory achieved if you got it. At the film's start, Rabbit freezes up, unable to eke out a syllable on stage. By the film's climax, he's entered the ring like a Rocky Balboa for our age. The final rap-off is so deftly handled, we don't mind the platter of underdog makes good clichés spread before us. 8 Mile attempts to address, in simplified movie terms, the redemptive power of rap. To Rabbit, rap is the way out of a loser's existence. Which, when you come to think of it, is pretty much Eminem's story.
Hanson's skillful, understated direction overcomes every shortcoming in Scott Silver's cliché-leaning script. The director modulates the larger, more intense scenes with smaller human-scale moments; the drama plays out with notable restraint.
Eminem, meanwhile, discards the more controversial aspects of his recording persona — Rabbit has only a hint of smoldering contempt for his mother (but, gosh, he still loves her), and there is little talk of violence against women or gays. In fact, the movie goes out of its way to make a bizarre peace on Eminem's part with gays, though it's hard to say whether or not this was an effort to keep GLAAD — which had to be salivating over the prospect of an Eminem movie (imagine all the talking head time on CNN!) — at bay.
Kim Basinger turns in a great performance as Rabbit's boozy, blowsy mother. Brittany Murphy plays Stephanie, Rabbit's trampy muse, whose sole narrative purpose is to betray her guy. The character is underwritten and underserved, adding nothing to the movie other than a reason for Rabbit to vent his pent-up rage.
I never thought I'd be saying this, but 8 Mile is one the best films of the year. It doesn't matter whether or not you're a fan of Eminem's, or whether or not you enjoy rap — 8 Mile draws you into its world and holds you there for two hours. Not to mention the afterglow. Let's just say 8 Mile stays with you for a good, long time.