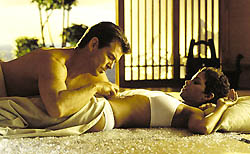 You only live twenty times: Brosnan and Berry
"You're no use to anyone now, " growls M (Judi Dench) to James Bond (Pierce Brosnan) as she strips her best agent of his "Double O " status. Of course, by the end of Die Another Day, the suave gentleman in the secret service of Her Majesty will have proven himself useful at doing what nobody does better: Saving the world from power-mad megalomaniacs with an arsenal of terrain-demolishing weaponry.
The twentieth installment in the most successful movie franchise all time, Die Another Day does its best to revive the flagging series while remaining true to its form. The movie follows the basic Bond formula with religious devotion, but it also pumps up the action to insane extremes. It's pure escapism wrapped in a familiar and comfortable milieu. The outlandish plot, the extravagant settings (including Iceland), the bwa-ha-ha-ha Bond villains, the sexy and sultry Bond girls — they're all in there. Bond is the Prego of action flicks.
Writers Neil Purvis and Robert Wade look to the past for inspiration. The storyline — a tycoon develops a fearsome satellite weapon with the potential for global destruction — is a rehash of Diamonds Are Forever. But Bond devotees will notice references to Goldfinger, Thunderball, The Spy Who Loved Me, and From Russia With Love, among others. What's lacking is the genuine wit, and the suave sophistication of the early Bonds, the ones starring Sean Connery (still the definitive Bond). Brosnan's Bond teeters somewhere between Connery's slick, serious secret agent and Roger Moore's Cartoon Network-worthy buffoon take on the role.
Sexual innuendoes run rampant through Die Another Day's screenplay. There's barely a line of dialogue without a reference to thrusting away or handling one's weapon. It's like watching a National Lampoon parody written by two stoned, giggling tenth graders.
The cast, including Brosnan, pretty much ignore the script's inanities, allowing themselves to be carried away by the increasingly preposterous — yet impressive — action set pieces. There is one stunning fight scene — a ferocious duel between Bond and nemesis Gustav Graves (Toby Stephens) — that feels rooted in reality. Everything else, including an idiotic, video-game influenced sequence involving laser beams; a scene in which Bond must outrun an icy tidal wave; and a climactic fight aboard a rapidly disintegrating military cargo plane, is beyond belief, spectacularly so.
The film's two Bond girls are notable for not being as awful as The World is Not Enough's Denise Richards. Halle Berry is an American secret agent named Jinx, and Rosamund Pike plays Miranda Frost, a compatriot of Bond's. Berry's entrance — she rises from the sea in a salmon colored bikini — is an homage to Ursula Andress's initial appearance in 1962's Dr. No.
Director Lee Tamahori, in his inaugural Bond outing, does a decent job of moving the story along at breakneck speed (after all, there's no reason for us to pause and think about what we're watching), and he even captures, at times, that classic Bond feeling. But Tamahori makes the mistake of adding a little flash to the otherwise reliable cast-iron pan: high-speed, jarringly-edited transitional sequences more attuned to a music video all-too-frequently gum up the works.
The movie also boasts what should go down in history as the worst Bond song ever recorded. The dishonor is done by Madonna, who has created a mood-shattering, techno-driven piece of tuneless drivel. Shirley Bassey, Shirley Bassey, wherefore art thou, Shirley Bassey? The lame accompanying visuals incorporate minor plot momentum (Bond is captured and we watch his ensuing torture) with the requisite gyrating female silhouettes. Title-design maestro Maurice Binder is long gone, and to this date no one has yet to match his hypnotic, unique style.
The most telling moment in Die Another Day comes during the final credits, which usually conclude with the line: "James Bond will Return. " No such line in this film. Clearly, MGM was hedging its bets. But with over $100 million raked in at the box in two weeks, you can bet that we haven't seen the last of Mr. Bond.