Photography by Jeff Code
"I love Samurai Jack and Powerpuff Girls. I'm not such a big fan of Space Ghost, but I watch it anyway. And yesterday I saw the new Transformers series for the first time. It was pretty good. "
Meet Robb Keffer. Dental franchise manager. Global traveler. Cartoon fanatic. He's trying to explain how Optimus Prime, former leader of the Autobots, is once again on Transformers despite his death in 1995's Transformers: The Movie.
"He's on the show, but he's not the same character. See, now they have these little Transformers called Mini-Cons that control the old Transformers. It's cool, except that the Mini-Cons look too much like Go-Bots. "
When talking Cartoon Network, Robb is suddenly ten-years-old. For our interview — which takes place, appropriately, on a Saturday morning — he's even wearing pajamas. All that's missing is the TV and a bowl of Cookie Crisp.
But Robb's actual childhood was more Dr. Who than Merry Melodies. Born in Thailand, he's been told that he spoke Japanese as a child, but he doesn't remember it. For eleven years, he was led to believe that his stepfather was actually his biological father, and remained unaware that his biological father was a gay Amish farmer in Reading, Pennsylvania.
"One day there's a knock on the door and this guy says, 'Hey, I'm your dad and I'm taking you, your mother and your sister to Pennsylvania.' So that's I got to know him — on a three-day bus trip from Texas to Reading. "
But at a stop in Harrisburg, Robb's mother snuck onto another bus headed for Pittsburgh, sending Robb and his sister to Amish country where they would live for the next two years with the father they'd just met.
Prior to this, Robb had only known a life of endless motion. His stepfather's job with the Navy shuttled the family around the world. Tokyo, Hong Kong, Germany, Texas, California, Baltimore — where he lives today — and suddenly, life ground to a low-tech halt on the completely Nintendo-free, charm-free farm.
"We couldn't do anything. We'd go to these little farmers' markets and flea markets and sell things. It was very hard for an eleven-year-old. "
Two years later, he left the farm and moved back in with his mother. That year, at thirteen, he came out to her. She, in turn, showed him the door. Rob calls being kicked out of her house as the best opportunity he ever had.
"When I went into foster care, they provided me with everything I needed. I don't think I would have had the opportunity to succeed or go to college if I was living with my mother. My sister continued to live with her and she ended up dropping out of school. "
Robb, 27, has been "compulsively working out " since he began running cross-country as a teenager, and hopes to leave the dentistry industry to become a personal trainer. His advice to those who can't seem to drag themselves to the gym is to find someone to work out with, "someone you can talk with and possibly hang out with afterwards. And mix up your routine. "
He refuses to work out with his boyfriend, Andres, who Robb says "lifts way too much weight. It's just too heavy. " You may remember Andres Ocando as 2001's MW Coverboy of the Year. The pair met at the edge of the dance floor at Remington's, and ended up two-stepping till closing time.
"I've never preferred going to clubs like Nation and freestyling it, " says Robb. "I only dance one way. "
A self-described "lesbian " relationship-wise, he seeks a serious commitment and generally goes for older guys.
"This is still in the honeymoon stage, " he says of his and Andres' six-month relationship.
Robb hadn't spoken with his father in six years until last month, when he invited his mom and his staunchly anti-gay gay dad ("He's not the nicest person, " says Robb) over for Thanksgiving.
"He walks in the door and my mom says, 'Aren't you going to say hi to your son?' And then she says, 'And now say hi to your new son-in-law.' [My father] just sat on the couch, watched Ice Age and said nothing the whole time. "
Despite a life of significant drama, though, Robb has retained a sense of humor, reflected in his preference for the WB's morning lineup over C-SPAN's talking heads. He's quick to reassure that he doesn't mind sacrificing his morning for this interview, a morning that could have been spent with a card playing, monster slaying, purple-haired warrior named Yugi.
"I'm taping, " he grins.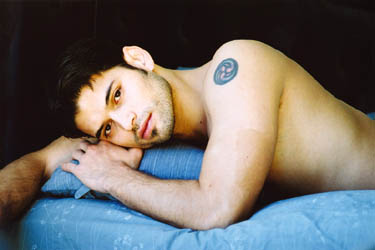 Nightlife Coverboy of the Year Prize Package
Over $4,000 in Cash & Prizes

$500 CASH

1409 Playbill Café — $25 Dinner Certificate

17th Street Bar & Grill — Dinner for 2 (up to $75)

18th & U Duplex Diner — Dinner for 2 (see ad on page 37)

Apex — 10 Admission Passes

Arena Stage — Two Pairs of Tickets Good for Any Show(s) for the Duration of the Season (some restrictions apply)

Atlas/Lizard Lounge — ATLAS Staff Shirt, Lizard Lounge $100 Hospitality Voucher, Selection of Mixed CDs by Lizard Lounge Resident DJ Kostas

Banana Café — Sunday Brunch Buffet for 2 with unlimited Mimosas

Blue Ball — Two tickets to Main Event (Jan. 25, 2003)

Chaos — Sunday Drag Brunch Gift Certificate

Cherry 8 — Two Tickets to the Main Event (May 2, 2003)

Cobalt — $50 Bar Tab & VIP Membership Card

DC Eagle — $50 Bar Tab

Empire Video — 50 Free Rentals

Follies — $100 Gift Certificate for Merchandise

Freddie's Restaurant — Dinner for 2 (up to $50, exlusive of alcohol, tax and tip)

Food Bar — Dinner for 2 (up to $60)

Green Lantern/Tool Shed — Two Hour Cocktail party for Winner and up to 50 friends

Hamburger Mary's — Dinner for 2

Home Rule — $50 Gift Certificate

HRC Store — $50 Gift Certificate

Infuzion — $50 Gift Certificate

JR.'s — $50 Bar Tab

Kennedy Center — 2 Tickets to the American Ballet Theatre's Romeo & Juliet (in the Concert Hall, Feb. 18-23, 2003)

Leather Rack — $50 Gift Certificate

Loews Cineplex — 10 Movie Passes

Mid-Atlantic Leather Weekend 2003 — Full weekend package

Omega DC — 20 Free Drink Tickets

Reel Affirmations XIII — Two Lincoln Theatre passes to next October's Film Festival, includes opening and closing night films, admission to every movie screen at the Lincoln, and the nightly martini parties at the ABSOLUT Pavilion

The Shakespeare Theatre — 2 Tickets to A Silent Woman (Jan. 21-March 9, 2003)

Studio Theatre — 2 Tickets to A Class Act (Opens May 14, 2003)

Two Quail Restaurant — $100 Dinner Certificate

Universal Gear — $50 Gift Certificate

VelvetNation — Complimentary Admission for 1 Year

Washington Plaza Hotel/International Bar — A Complimentary Two-Night Weekend Stay (inclusive of room and tax and subject to availability); A Food/Beverage credit of $100; and Two Pool Memberships for the 2003 Season

Wet — $25 Bar Tab

Ziegfeld's/Secrets — $50 Gift Certificate