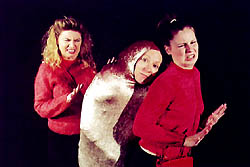 Girls Just Wanna Have Fun: LaForce, Murray and Painter
(Photo by Ian Armstrong )
There's a lot to be said for taking a taboo subject and examining it exhaustively. In the case of Dingleberries, the uneasy topic is the bathroom and the bodily functions — mostly of the bowel-related variety — carried out there. By the time Cherry Red Productions tears through fourteen short toilet-themed plays, doggone it if you don't feel like talking about shit is an easier thing to do.
At the very least, using the bathroom is one of the most fundamental, universal human experiences there is, so why not put it out there as theatrical fodder and see what happens? The writers represented in Dingleberries have certainly come through with consistently amusing, and some downright wickedly funny, takes on what we do in the loo, and a game cast, some quite talented, tackles the scenarios with abandon.
Highlights include Andrea Thorne's Worm Girl, featuring Glee Murray in a bizarrely hysterical personification of an ultimate pariah in the high school girls room pecking order. For sheer linguistic skill, give props to Erica Hoffman, whose The Rectum, by Edgar Allan Poo (performed with dead-on deadpan by Richard Renfield) finds not a single Poe phrase that can't be matched with a precise, prurient parallel.
The revulsion factor gets ratcheted up for the evening's pinnacle of hilarity, David Andrew's Kernels of Corn, Chunks of Carrot, which mercilessly skewers the scat fetishist subculture. There's nothing so priceless as the sight of Tony Greenberg as a sullen-faced man "dining" alone in a room full of enthusiastic poo-eaters at a scat convention because his excrement is deemed unsuitable for sharing.
Gross? Yes. But nonetheless funny, and a perfect antidote when you find the forced cheer of the holiday season too much to bear.
Through December 28th at Warehouse Next Door, 1017 7th Street NW. Tickets are $15. Call 202-298-9077. Visit www.cherryredproductions.com.