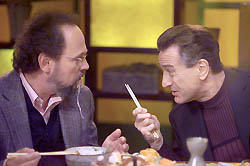 Comrades in misery: Crystal and DeNiro
It doesn't take the finely honed skills of a movie critic to formulate a practical analysis of Analyze That. Anyone can do it. And here's a handy little thought-process exercise to get you started:
Think of the contents of a cat's litter box.
Then think of this movie.
See how easy that was?
An exceptionally unamusing follow-up to the exceptionally amusing 1999 hit comedy Analyze This, reunites Robert DeNiro's mob boss Paul Vitti with Billy Crystal's slightly high-strung but oh-so-understanding psychiatrist, Ben Sobol. When attempts are made on Paul's life in prison, the gangster fakes a psychotic episode to get released into his former psychiatrist's custody. None of this makes a lot of sense, really, particularly since the FBI seems to condone the prison release, but it opens the door to comic potential, as Paul's presence disrupts the Sobol family's otherwise tranquil life.
That comic potential goes untapped.
The movie meanders for an hour and ten minutes leading pretty much nowhere. In desperate need of a climax, screenwriters Peter Steinfeld, Peter Tolan and Harold Ramis (who, as with the first film, performs directorial duties), orchestrate for Paul an armored truck heist. Of course, gentle Ben gets caught up in the proceedings, and the whole shebang turns into a nightmare — for us. There's nothing even remotely funny about the concluding reel — certainly not like the gloriously funny finale of the first film, in which Ben had to impersonate a mob boss.
DeNiro, who so gamely parodied his movie mobster persona in the first film, is on full-blown caricature-mode here. It's less a performance than it is a "Sign My Paycheck, Please " appearance. One of the movie's running gags has Paul singing selections from West Side Story. Frankly, it's more embarrassing than funny.
Crystal, for his part, has even less to do in this film than the first. But give him the opportunity to mug shamelessly — as in a restaurant scene in which Ben mixes herbal pills with booze with disastrous results — and the actor lunges with the force of a man who suddenly discovered the joys of ham. Not to mention bacon. And pork chops.
The most entertaining moments in Analyze That crop up during the final credits, which contain outtakes of the actors flubbing their lines and cracking each other up.
Too bad they couldn't do the same for us.