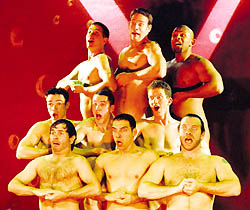 In the flesh: NBS! cast
(Photo by Christopher O. Banks )
There's nothing particularly novel about nudity these days, right? You get a hunkering for the sight of male flesh en masse, so you go online, or you blow a wad of ones at Wet, and it's a done deal. But let's face it. Gay men, above all other admirers of the male form, ultimately long for something more from their hunk-ogling experience. They want wit, they desire passion, they need pathos, they crave…showtunes.
At least that's the theory behind the revue Naked Boys Singing! Hey, it's made for a long-running hit in New York. (Well, that and a few hundred Long Island bachelorette party bookings.) Now Washingtonians don't have to go any further than 14th Street to see for themselves what all the fuss is about, thanks to a local mounting of NBS! by the Actors' Theatre of Washington under the direction of Jeff Keenan, with assistant direction and choreography by Jeffrey Johnson, and musical direction by Keenan and Jason Sherlock.
Built around original musical theatre compositions from various contributors, the show opens with a rousing number — Ã  la "Comedy Tonight" — called "Gratuitous Nudity" that showcases the cast in its collective vocal prowess and full flesh-baring glory. From there, Matty Boyd, Matt Conner, William Cook, Adam Elliot, Alexander George, Garrett Hurd, Dallas Miller, Britton Saffer and Chuck Walker move briskly through a series of solo and group configurations to celebrate and reflect on what it means to be male, naked and, generally speaking, gay.
Like "Gratuitous Nudity," the full-ensemble numbers "Hey, Mr. Ashcroft," "Jack's Song" and "Members Only" prove to be the production's most musically effective moments. The multitude of voices obscures the weaker skills apparent in some solos elsewhere, notably Conner's strained rendition of "Window to Window," Boyd's near-mangling of "Muscle Addiction," and Walker's strangely subdued, lackluster takes on "Robert Mitchum" and "Nothin' but the Radio On."
Conner's comedic skills serve NBS! much better in the cleverly staged "Hey, Mr. Ashcroft" — a new, tailor-made-for-D.C. composition — as he bewails his fate as a censored statue that has offended the über-conservative Attorney General. Equally amusing are "Jack's Song" (how many things can you rhyme with the phrase, "I beat my meat?") and "Members Only," a chorale-like tribute to all the words for willies you can imagine.
Quite funny as well is "Bliss of a Bris," with fine, broad comedy from George, backed by Elliot, Walker, Cook and Boyd in delightfully silly caricatures of a rabbi and family members at the moment many a man's penis receives the most admiration it ever will. Hurd puts a charming, "aww, shucks" spin on the sex-affirming "Perky Little Porn Star," as well as adding the right touch of comic anxiety, along with Miller, Saffer and Conner, in "Fight the Urge," an homage to youthful locker-room lust and its ensuing tell-tale physical signs.
Saffer takes an overly cutesy route in "Naked Maid," one of NBS!'s few true solo numbers. (Dear god, man, could you butch it up just a little?) But Cook is right on-target in the plaintive "Kris, Look What You've Missed," while Miller emerges near the finale with the production's most sleek, vocally polished work in "The Entertainer."
If Naked Boys Singing! sounds even remotely like your cup of tea, it's bound to please. And if not, I say give it a try just for the hell of it. After all, is ninety minutes in a room full of naked men ever really time wasted?
Through Jan. 26, 2003, at Source Theatre, 1835 14th St. NW. Tickets are $21 to $45. Call 800-494-8497. Visit www.atwdc.org.