From Jacobean London to contemporary L.A., wild women wreak havoc and leave laughter in their wake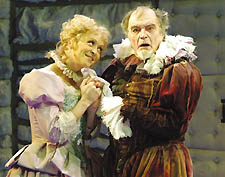 The Newlywed Game:
Robichaux and van Griethuysen
(Photo by Richard Termine )
When words such as "eye-popping" and "elaborate" register as understatement, you know the design-intensive Shakespeare Theatre has outdone itself. Such is the case in the visually dazzling The Silent Woman, Ben Jonson's 1609 farce which the company is heralding as an American professional premiere.
Set designer Andrew Jackness adorns nearly every surface possible with lime-green vinyl cushions, suggesting a padded cell for the fashionably insane. Or would that be the insanely fashionable? Perhaps the latter, considering the characters with which Jonson fills the stage — conniving, pretentious social climbers whose lives are filled with little more than hedonistic pursuits and whose bodies are adorned in outrageous finery (rendered with amazing skill and imagination by costume designer Murell Horton) that pushes breasts up and crotches out to the point of blissful absurdity.
In stark contrast stands Morose (Ted van Griethuysen), an aging bachelor who has ensconced himself in a more literal padded cell. He can't stand the noise of society, so he's covered everything — windows, walls, furniture, even servants — in thick padding to keep his personal realm silent. Who's crazier, then, is this clever visual set-up: Morose or the outside world? Or is Morose the sanest one of all?
Noise isn't the curmudgeonly Morose's only problem, though. He's disdainful of his nephew Dauphine (Bruce Turk), so he decides to marry and produce an heir to deny Dauphine an inheritance. The seemingly perfect bride materializes in the form of the demure Epicoene (Ricki Robichaux), who speaks very little, and most softly when she does.
But we soon learn that Epicoene is a collaborator in a complex plot to dissuade Morose from marriage forever, and as soon as the vows are said, she turns into a demanding shrew and falls in with a circle of femme fatales known as the Ladies Collegiate — Madame Haughty (Naomi Jacobson), Madame Centaur (Nikki E. Walker) and Mistress Dol Mavis (Amanda Whiting.
"High-maintenance" wouldn't even begin to describe these women, who are played to the delicious hilt by Jacobson, Walker and Whiting as voracious sexual predators with more fortitude and cunning than any man in the room. Their presence, along with a host of colorful characters — notably another ball-buster, Mistress Otter (played to perfection by Nancy Robinette) — drives poor Morose to his knees.
Van Griethuysen's Morose is a delightfully animated, neurotic mess who anchors director Michael Kahn's crystal-clear vision of The Silent Woman's society-run-amok. Although he was Shakespeare's contemporary, Jonson is worlds apart from the bard on the sentimentality scale. Kahn and company are sure to keep it that way, making The Silent Woman an out-of-the-ordinary comedic treat.
Justin Tanner's Coyote Woman proves to be a sharp, silly and fast-paced romp through a world where decorum and reserve are for the weak and un-cool. The central character, Janet (Jacky Reres), is a Los Angeles yuppie who's psyched by the prospect of marriage to straight-arrow Cliff (Richard Price). But a run-in with a mysterious creature turns Janet's life upside-down. Now, when night falls and the moon's out, Janet morphs into the Coyote Woman (Lucrezia Blozia) — a party-hearty slut whose shenanigans threaten everything about Janet's staid life that she treasures.
The Silent Woman
Directed by Michael Kahn
The Shakespeare Theatre
Through 3/9
202.547.1122
Coyote Woman
Directed by Jennifer Ambrosino
Cherry Red Productions Through 3/1
202.298.7077
The imposing Blozia — a.k.a. actor Chris Griffin — is a total scream as the visual and emotional antithesis to the petite Reres's uptight, cheerleader-like Janet. Blozia gets great scenes with Tony Greenberg as Bill, a dumpy but massively endowed nerd the Coyote Woman picks up to satisfy her ravenous sexual appetite, as well as the hysterically funny Stephanie Jane Burden, Melissa-Leigh Douglass and Dana Edwards as a gang of criminally-inclined goth-punk chicks who become the perfect peer support group for the Coyote Woman.
Price puts a priceless spin on Cliff, whose apparently homophobic disdain for Mike (the charming Joe Pindelski), the gay brother of Janet's roommate Debbie (Monique LaForce), may just mask homosexual passion for his partner on the county animal control beat. It's all a lot of fun, nicely paced by director Jennifer Ambrosino, and easily ranks as one of Cherry Red Productions' most accomplished efforts in recent years.
Playwright, actor and pianist Hershey Felder is an engaging presence in George Gershwin Alone as the legendary American composer whose fascinating life and career potential were cut short by a brain tumor that claimed his life at the age of 38 in 1937. Felder penned the script as a rather straightforward account of Gershwin's rise from humble beginnings in a Russian-Jewish immigrant household in New York to his work as a prolific composer — both lauded and criticized — for such groundbreaking achievements as Rhapsody in Blue and Porgy and Bess. But Felder's ability to channel Gershwin at the piano as well raises the show to some genuinely mesmerizing heights. (Through February 23 at Ford's Theatre. Call 202-347-4833.)