Outrageous deaths and buckets of blood leave you laughing, not screaming, at Final Destination 2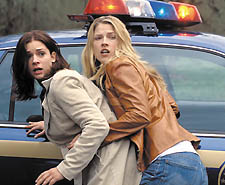 Death comes a-calling:
Cook and Larter
There's a fine line between horror and comedy that, when expertly walked, can yield pitch-perfect blends of screams and giggles — think Scream, for a widely seen example. The first Final Destination was one of many entries into the Scream sub-genre of playfully ironic, post-modern posturing screamers over the past decade, and it mildly succeeded in walking that increasingly well-worn line. Its one innovation was to reach back for inspiration not to the overtly-phallic slasher films of the Eighties, but to the overwrought, gruesome death scenes of The Omen and its ilk.
Final Destination 2, like The Omen II before it, grabs the formula by the devilish horns and works it to such extremes that you can't help but laugh — unless you have a weak stomach.
As Kimberly (A.J. Cook) and her friends leave for a beach vacation, the town is remembering the airplane crash one year before that claimed the lives of nearly every high school senior, except for a handful that exited the plane when one of them had a vision of the crash. Each of the survivors later died, claimed by Death for having subverted his grand design.
Kimberly, sure enough, has her own premonition of a massive car crash on the freeway, a real humdinger with decapitations, defenestrations, slow immolations and even a log-through-the-windshield liquefaction. She fails to stop the accident by blocking the on-ramp, but does save the lives of a handful of character actors who met gruesome ends in her vision.
Final Destination 2
Starring
A.J. Cook
Ali Larter
Michael Landes
Tony Todd
Directed by David Ellis
Rated R
100 Minutes
Given what awaits most of them, they probably would have been better off on the freeway. Death, it turns out, had worked overtime to pull off that pile-up, and he's not about to let anyone pull his well-laid plan astray. So as Kimberly and the other anxious survivors fret about their fate, the Rube Goldberg contraptions of death begin to clink and clank their way to surprisingly bloody ends.
Horror sequels almost invariably go for bigger and bloodier shocks than their predecessors, so that Final Destination 2 easily out-grosses the previous comes as no surprise. Nothing is particularly scary — what director David Ellis focuses on is the uneasy feeling in the pit of the stomach that you feel when someone, say, gets his hand stuck in a garbage disposal.
Ellis is good at misdirection — death constantly appears in one guise, only to be delivered in an unexpected (and grislier) alternative. But any screams at the moment of a character's demise are immediately overwhelmed by laughter at the absurdity of it all — first you say "ewww! " and then you giggle. How else to respond to a death scene that involves a trip to the dentist, a tank of tropical fish, laughing gas, a construction crew, and a flock of pigeons? This works fine for about two-thirds of the movie. Unfortunately, everything starts off so big that the movie has nowhere to go — the climax simply can't top what came before. And the audience sees the solution to the problem long before the supposedly precognitive Kimberly, whom one suspects wouldn't be able to glean a hint from a giant clue painted on the side of a barn.
No matter. If you're into this kind of tongue-in-cheek, teenage horror gorefest, you know not to expect The Hours. It's adequate for the moment and imminently forgettable. Although odds are you won't forget the revoltingly hilarious kicker ending for a long time to come.